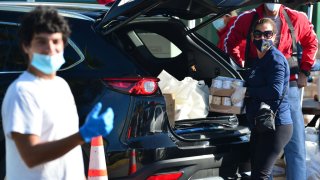 As South Florida begins to come out of the pandemic, there's controversy surrounding two non-profits who helped feed people during recent tough times.
Feeding South Florida says it's helped provide meals for over 700,000 people in the area and almost 1.5 million people at the height of the pandemic. Now, they've lost a major contract which they say could impact their services.
For more than 20 years, Feeding South Florida has been awarded a contract called the Emergency Food Assistance Program. For the first time, the Florida Department of Agriculture instead is giving the grant to Farm Share starting this year.
"Without this contract we won't be able to respond to the disasters as we have in the past," said Paco Velez, President and CEO of Feeding South Florida.
However, Farm Share - which has been serving food insecure Floridians since 1991 - says they are fully capable of handling this contract.
Farm Share CEO Stephen Shelley provided a statement to NBC 6 that read:
"Farm Share is Florida's largest food bank, and for 30 years has delivered food at no charge to large and small feeding programs to meet the needs of food-insecure Floridians. Farm Share was recently awarded the TEFAP contract in Broward County. In contrast to some misleading media reports, under Farm Share there will be no disruption in food distribution in Broward County, including TEFAP products. Any assertion that there will be a gap in TEFAP food in Broward County is false."
Feeding South Florida says they won't be closing their doors, but they argue that the scoring system that was used to select the contract was flawed.
"We reviewed the scores and there were blatant errors and a lot of inconsistencies in the scoring and really no scoring rubric," said Velez.
Farm Share says the scoring process was thorough and complete.
"Farm Share is committed to our mission of ending hunger, and we were pleased that a fair and competitive process has given us this opportunity to help meet the needs of Broward County residents," said CEO Stephen Shelley in a statement.
On Tuesday, Broward County Commissioners supported Feeding South Florida by passing a resolution 9-0 urging decision makers to reconsider.
U.S. Rep. Debbie Wasserman Schultz also expressed her support for Feeding South Florida and weighed in on the issue.
"Before the pandemic, they have met the needs of the community over and over again. There is no organization that could have been chosen that could hold a candle to the role that Feeding South Florida has played," the Democrat from Broward County said. "I too am concerned and have inquired with the Department of Agriculture about how this decision could have been made."
A spokesperson with the Florida Department of Agriculture released the following statement regarding their decision:
"Helping Florida's families in need access healthy nutrition is one of our department's top priorities, one shared by our talented partners and vendors. Our department employees are experts in evaluating federal grant applications to maximize taxpayer investment, and we are confident in our outstanding, transparent process for all publicly-funded programs and initiatives. As this matter has been referred to the Florida Division of Administrative Hearings, we cannot comment further."