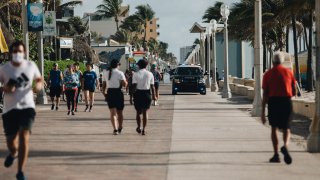 Hollywood commissioners expressed support for beach closing hours and banning certain tents and bicycles from the beach's popular Broadwalk area.
City commissioners held a meeting Wednesday to discuss a new ordinance that seeks to close the sandy part of the beach to the public every night to "increase the safety and security of the beach by deterring nighttime trespassing and other criminal activity."
The proposed ordinance sought to close the beach between 11 p.m. and 5 a.m., but commissioners favored a midnight to 5 a.m. closure.
In addition to the restricted hours, the ordinance sought to ban tents and canopies from the beach as well as bicycles with more than two wheels, roller skating and roller blading, citing pedestrian safety on the Broadwalk.
Stay informed about local news and weather. Get the NBC 6 South Florida app for iOS or Android and pick your alerts.
Commissioners voted against banning roller skating and roller blades, but voted to ban certain recumbent tricycles or "banana bikes."
Nick Subrami, manager of the Bike Shack, said rentals of the banana bikes are a big money maker for them.
"Those are our most popular bikes that people rent, definitely gonna hurt us a lot, effect most of our sales because most of our revenue does come from surreys and banana bikes," Subrami said.
As far as tents, commissioners voted to ban tents with enclosed sides only.
The ordinance was seeking to ban all tents and canopies, arguing that an increase in beach visitors has led to an increase in tents, also creating a safety hazard.
"Tents and canopies pose a public safety hazard, especially during peak times and locations, as they block access to and visibility of the water's edge which can lead to delays in first responder response time or the inability to quickly spot an imminent danger," the ordinance read.
The final wording of the ordinance will still need to be submitted before it goes through a first and second reading and then potentially a final vote, possibly as early as next month.