The Miami Heat will try to win an improbable 12th straight game tonight in Milwaukee. It would mark the longest winning streak in NBA history by a team with a losing record.
So how did they turn things around? It is because of an easy schedule?
It's true that the Heat have benefitted from a recent stretch of weaker opponents, but during the 11-game win streak, they've knocked off 5 playoff teams, including the best team in the sport, Golden State, and title-contending Houston.
The real reason the Heat have exploded and looked like a different team the last few weeks is simple: it's offense.
Look at these numbers during the win streak. The Heat are averaging 110 points per game.
They are shooting 48.4% from 3-point range, while opponents are making just 29.4% of their 3-point shots.And in particular, guards Goran Dragic and Dion Waiters have been on fire.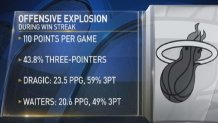 During the streak, Dragic has averaged 23.5 points and 6.8 assists, while shooting 56.5% on FG and 58.7% on 3-point FG! Waiters been almost as scorching hot, averaging 20.6 points, 5.1 assists, while shooting 49.2% from three-point range.
Those numbers are impressive, but not sustainable. The Heat offense can't shoot this well forever, but the combination of Dragic and Waiters has turned a bad team into a playoff contender.
With Waiters doubtful to play tonight because of ankle injury, beating Milwaukee on the road will be a challenge.