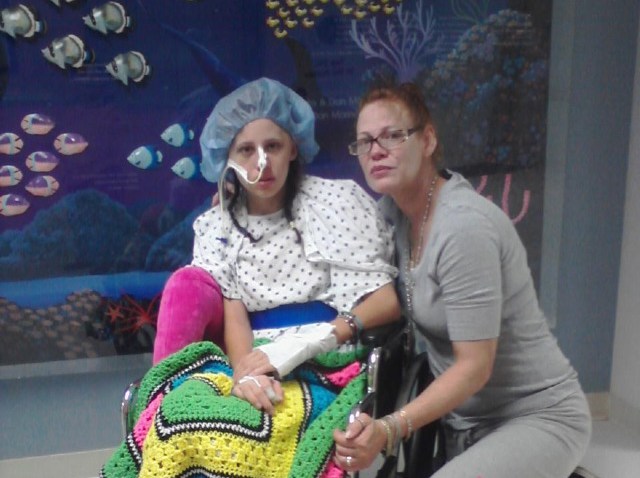 Almost a month after she was beaten nearly to death outside Deerfield Beach Middle School, 15-year-old Josie Lou Ratley is out of her medically induced coma, but she still has a long road to recovery, doctors said Wednesday.
Ratley can't walk or talk, and she suffered extensive and traumatic injury to her brain in the March 17 attack, Dr. David Lasko said during a news conference at Broward General Medical Center, where Ratley has been in intensive care for the past month.
"She has made slow but steady and remarkable improvement since the beginning of her stay here, certainly in the last few weeks," Lasko said. "She's a remarkable young woman."
Ratley family attorney Rick Freedman, also at the news conference, said Ratley was sitting up in a wheelchair this morning when he visited her.
"I think she was happy to be out of the bed," Freedman said.
Ratley has been able to recognize her mother, Hilda Gotay Ratley, and even tried to give her a hug. Though she can't speak, she has been responding to questions physically, usually by waving her left hand.
Lasko said Ratley can't eat on her own yet and still has a feeding tube.
Ratley is scheduled for reconstructive surgery of her skull on Monday, and after she recovers from the surgery she'll be moved to a rehab facility for patients with brain injuries.
Freedman said Ratley is responding well whenever she sees her mother.
"Everytime Hilda walks in the room, Josie changes her emotion," Freedman said, adding that Hilda Ratley is in a more positive mental state.
Freedman said Ratley has a long and difficult rehabilitation ahead of her, which includes physical, occupational and speech therapy.
Earlier this week, the mother and stepfather of 15-year-old Wayne Treacy, who has been charged with attempted murder in the Ratley attack, appeared on the "Today" show to apologize to the Ratley family.
"I am so sorry, my heart and prayers go out to you," Treacy's mom Donna Powers said. "I know the pain that you're going through, I'm just sorry."
Treacy is being held in a juvenile detention center.
The extent of Ratley's brain damage isn't good, Lasko said Wednesday, but they have no idea how much she can improve long term.
"Her potential for recovery is unlimited at this point but we don't know where the end point will be," Lasko said.
"It's a long road," Freedman said.