A 21-year-old central Florida man faces multiple charges after authorities say he tried to rob a church during Sunday services.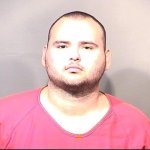 Pastor Les Snodgrass of The Door Christian Fellowship Church in Melbourne tells Florida Today he was in the middle of his sermon on Sunday when a man stood up and pointed a gun at his 76-year-old mother.
Snodgrass recalls John Grace, of Melbourne, yelled obscenities as he ordered the pastor's wife to "tie up the children.''
Melbourne police say Snodgrass pleaded with Grace before he and his son subdued him.
Darius Snodgrass, the pastor's son, said he jumped 6 to 9 feet onto the gunman and punched him a few times until he went limp. The two managed to get the firearm from the suspect and held him with a stun gun until police arrived.
"It's almost like an angel gave me a little shove," Les Snodgrass said. "Next thing I know, I had him against the wall."
Police spokesman Dan Lynch says Grace had been sitting in the congregation of the small, storefront church before pulling out an airsoft BB gun modeled after a Sig Sauer pistol.

Grace remains in jail and records don't indicate whether he's hired an attorney.

Copyright AP - Associated Press