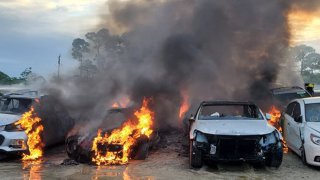 A massive fire destroyed more than three dozen cars at a scrapyard along Florida's Atlantic Coast on Monday, authorities said.
There were no injuries and no buildings were threatened at the scrapyard in Fort Pierce, Florida, the St. Lucie County Fire District said in a tweet.
Firefighters estimated that between 35 and 40 cars were destroyed.
A cause of the fire wasn't immediately known.
Copyright AP - Associated Press