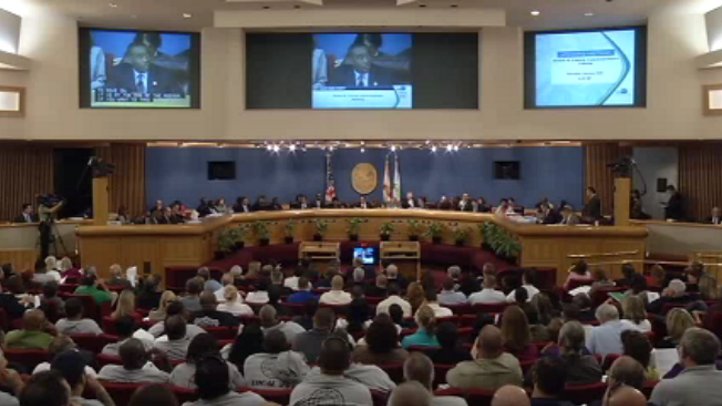 Miami-Dade County voters have once again rejected to increase the salaries of county commissioners Tuesday.
With all precincts reporting, the ballot question to amend the county charter that would have also established term limits for the commissioners was voted down 54-46 percent.
The question on the Jan. 31 ballots asked, "Should county commissioners be held to eight-year term limits and be banned from outside employment, while boosting their salaries to about $92,097 a year?"
While the term limit question was a new wrinkle for county commissioners, the effort to increase their current $6,000 salary is old news.
They have not gotten a raise since 1957, but not for a lack of trying. On a dozen occasions they've put the issue to voters and come up empty every time, including in 2010.
Adding term limits to the equation as well as banning outside employment might have made the measure more enticing to voters, even though the term limits would not start counting until 2012 (with current commissioners able to stay in office until 2020), while the raises would have gone into effect immediately.
Voters approved another charter change question on the ballot that gives voters more time to put together citizen initiatives for future ballot drives, doubling the amount of days from 60 to 120, conceivably making it easy to recall commissioners if they run afoul of the electorate.
Merrett Stierheim, a former Miami-Dade County manager with more than four decades of experience as a public administrator in South Florida, said putting both raises and term limits in the same ballot question was a strategic move but one that wouldn't do much to reform the problems in county government.

"What are you really achieving?" Stierheim asked.

The former county manager said that he was opposed to term limits and cites what has happened in state government as an example of the its downfalls.

"I've seen how term limits destroyed Tallahassee. I rather let voters decide if they want to take out (elected officials) rather than force them out," he said.

As for whether the pay raises for commissioners would be a positive development, Stierheim also balked saying commissioners already run expensive offices and staffs.

"When I was county manager commissioners were only allowed to have one staff member and didn't have district officers. Now they have four or five staff members and two offices," he said. "The whole operation has gotten really expensive. We now have 13 commissioners, before we had nine. It's become a pretty substantial policy-making bureaucracy.

He did say that he would support doubling the amount of time to get signatures for citizen led petitions as way way to counteract the power of politicians.
For more coverage of the primary, click on NBC Miami's Decision 2012 page.