A soldier who is currently fighting for our country in Germany has lost his dog. Now, his family in Miami is pleading for your help to find him.
The dog, named Jager, was last seen running through Robert King High Park off of Flagler and about 70th Avenue on July 3rd.
All the while, the dog's owner, Jose Hernandez, 21, is deployed in Germany working at a hospital.
Hernandez's mother says Jager ran away from the backyard of the family home in West Miami, possibly because he was scared of fireworks going off in the neighborhood. She says the side gate was left open and the dog got out.
Neighbors say Jager was seen crossing Flagler and then seen again at the park, but then disappeared.
"I was taking care of him and I really worry because my kids are devastated," said Jose's mother, Alba, "My son is too because we lost a very nice and very smart dog."
The family is now putting up posters around the neighborhood to get the word out.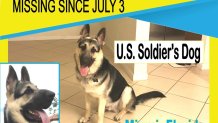 Jager is black, tan and white east European shepherd. He weighs over 100 pounds and is almost two years old. He was wearing a collar, but didn't have a tag on it when he disappeared.
If you know where the dog is, you're asked to call the family at 786-348-6843.