Mold pictured on walls, chairs, doors and ceilings at a Miami-Dade County correctional facility known as the Women's Detention Center.
The pictures were taken last May during an inspection conducted by the county's Risk Management Safety Division. The inspector notes "signs of water intrusion" and "what appears to be mold" in multiple locations at the building.
"I got very sick while working in the building," said an employee who we are calling Sabrina. "Sinuses, asthma, allergic reactions, heavy cough, fever. I've had a lot of different reactions to the exposure of mold that I have had."
Sabrina says her life changed since she started working at the facility in 2016.
"In and out of the hospital, urgent care to different doctors," she said. "Right now, I have to have sinus surgery to have allergy shots."
Sabrina and others complained to county's authorities, took pictures and even paid for mold testing.
She says the county recently closed down some parts of the building (after two years of employees' complaints) but she believes their health is still at risk.
"We continue to be exposed to that on a daily basis," she said.
It's not the first time.
In 2016, a team of remediation specialists spotted mold on safety gear stored inside the building. The estimated cost to clean it was $16,000.
The NBC 6 Investigators found that Miami-Dade County has spent more than two million dollars fighting mold issues since 2013 in at least a dozen facilities, including the police headquarters, Miami International Airport and the county's courthouse.
Last Summer, the courthouse's Chief Judge Bertila Soto told us that another judge had to leave her courtroom due to health issues related to mold.
"She was having some breathing issues, felt uncomfortable," Soto said.
Records provided by Miami-Dade show the county has spent close to $250,000 mitigating mold issues at the courthouse.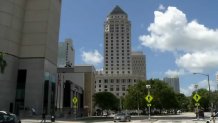 In Broward County, employees have filed 36 claims linked to mold exposure in the past five years.
In a statement, the county tells us about a million dollars have gone toward cleanup efforts since 2013 but that no facilities have been closed due to mold problems during that period.
Federal buildings have also faced mold problems.
Latta Thomas says he left his job as a chaplain for the Federal Correctional Institution in Miami after his health started deteriorating.
"I was exposed to mold from the first day," he said. "I developed rashes, developed breathing problems."
His medical records show that he was diagnosed with an allergic condition linked to mold in 2016. The doctor asked him to either "change to a mold-free office or have water damage/mold issues in his current office completely mitigated."
In May 2016, Thomas hired a mold remediation company to test the facility and found mold was present at the chapel.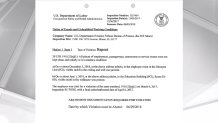 Records show that the Occupational Safety and Health Administration (OSHA) cited the prison in 2017 and in June 2018 after "visible mold" was detected in the building.
"My physical system was combating mold every time that I was there," he said. "It created a problem in terms of being able to do my job."
Sabrina shares the concern.
"They are not providing us with a healthy environment to work in," she said.
The Miami-Dade Corrections Department declined to comment about mold issues at their facility. In a statement, the Federal Bureau of Prisons told us that they don't comment on personnel matters and that the mold at the prison has been cleaned up.