What to Know
If you are a fan of college and pro football in the state, there is one way to look at this weekend: it can't get worse than last weekend.
If you are a fan of college and pro football in the state of Florida, there is one way to look at the upcoming weekend of action: it can't get much worse than what took place last weekend.
In addition to both the Miami Dolphins and Miami Hurricanes losing their games, both of the state's other NFL teams lost as did the state's other two power college programs – marking just the fourth time in the last 41 seasons that Miami, Florida State and Florida all lost in the same weekend.
So, with that disastrous note and the month of October behind everyone, the Sunshine State is looking to start fresh with a weekend of games that include rivalry showdowns and must win battles.
Which ones are the best of the best this weekend? We rank them up with our not-so-scientific NBC 6 system.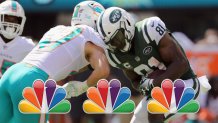 Miami Dolphins vs. New York Jets (Sunday)
In a former life this season, the Dolphins went up north and got a win over their hated rivals to help start the season at 3-0. Now, Miami has lost four of their last five games and has to wonder if and when quarterback Ryan Tannehill will get back on the field – but at this rate, Brock Osweiller is doing just as good of a job of losing games as Tannehill did, so there's no rush.
Miami Hurricanes vs. Duke Blue Devils (Saturday)
A day before inside Hard Rock Stadium, it's the Canes who will make their return home for the first time in four weeks – which was also the last time they won a game when they came back against Florida State. Since then, losses to Virginia and Boston College have been compounded by the fact that Malik Rosier is back to being the starting quarterback, a move that has some fans still shaking their heads.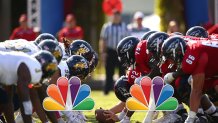 FIU Panthers vs. FAU Owls (Saturday)
When the fighting cats from Southwest 8th Street and the screaming birds from Boca Raton get together for the much sought after Shula Bowl trophy, all the records go out the window! If you're Owls coach Lane Kiffin, you might want that after a disappointing 3-5 start to the season while Butch Davis has the Panthers guaranteed to have a second straight season with at least a .500 for just the second time in program history.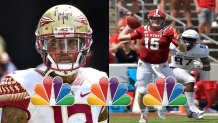 Florida State Seminoles at NC State Wolfpack (Saturday)
Fans in garnet and gold are slamming that panic button down during head coach Willie Taggart's first season after the worst home loss in program history last week against Clemson. At 4-4 on the season and four remaining games against teams ranked in the Top 25 of the College Football Playoff, FSU is staring down the barrel of their first losing season since 1976 - the first season for legendary coach Bobby Bowden in Tallahassee.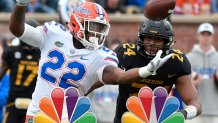 Florida Gators vs. Missouri Tigers (Saturday)
It was all right there for Dan Mullen's team when they held a second half lead over Georgia last weekend and a chance to be in the playoff talk. Now, Florida can only hope for some serious chaos in the college football world that will somehow get them into the system without actually winning their division – something that has happened with teams each of the last two seasons.
Other State Games
The USF Bulls will look to bounce back from their first loss of the season last week when they host Tulane. At the same time, the FAMU Rattlers will hit the road to take on Howard while their rivals Bethune-Cookman will face Morgan State.
In the pro game, the Tampa Bay Buccaneers will be on the road for the second straight weekend when they take on the Carolina Panthers.