A member of the NFL's Cleveland Browns was arrested in Broward County Monday for allegedly exposing himself near a children learning center and assaulting a deputy.
Malik McDowell, 25, was taken into custody and faces three charges, including aggravated battery on a law enforcement officer and resisting arrest with violence, Broward jail records showed.
McDowell appeared in court Tuesday where he was given a $31,000 bond. He bonded out later in the evening. His attorney said he may have been slipped something or given something that he was unaware of and which could explain the bizarre behavior.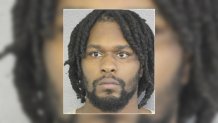 The Broward Sheriff's deputy had responded to a call of a naked man walking near a Deerfield Beach school when the deputy found McDowell sitting on a curb, according to an arrest report.
McDowell, who was naked, charged at the deputy with a closed fist then started punching the deputy, hitting the deputy in their right eye, the report said.
McDowell continued punching the deputy who fought back, but McDowell fled on foot before he was eventually arrested after a Taser was used, according to the report.
The deputy reported that their eye became almost swollen shut, and they suffered an ankle injury that left the deputy unable to walk without assistance.
The report said McDowell had been walking around the street naked in view of the public and near children at the Learning Center in Deerfield Beach.
"A gentleman roaming the parking lot without any clothing on and seemed to be not himself," said Nan Zamora, who works at the center. "There was a gentleman roaming the parking lot and getting close enough to the building and we immediately enacted the security protocols and we put the center of lockdown."
The three-year NFL veteran, who spent last season with Cleveland after playing in 2017 and 2018 with the Seattle Seahawks, has been in trouble with the law before.
He was arrested twice in 2017 in both his native Michigan and in Atlanta. In 2019, McDowell was arrested in separate incidents for resisting arrest and assault as well as possession of a stolen vehicle. He was sentenced to 11 months in prison before his 2020 release.
"We are aware of the very concerning incident and arrest involving Malik McDowell and are in the process of gathering more information. We understand the severity of this matter and our thoughts are for the well-being of all involved," the Cleveland Browns said in a statement.
He worked out for several teams after his release, including the Miami Dolphins, before signing with Cleveland. He had three sacks in 2021 for the Browns.