A photo of a nude man straddled on a shark has gone viral, and for some reason the University of Florida football coach's name has been tossed in the same sentence.
The picture circulated online as people questioned the identity of the smiling naked man as he hunched over a dead shark on a boat for the photo opp.
UK-based Wildlife TV personality Anneka Svenska posted the shocking photo to Twitter along with a scornful comment.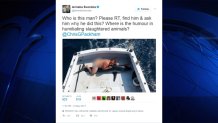 Many people online said the man resembled Gators' head coach Jim McElwain, but a spokesman for the university's athletics department said the shark-straddling man is not McElwain. "It's not him," said Steve McClain, the Gators' Senior Associate Athletics Director.
It's unclear where the photo originated from or who the man is.