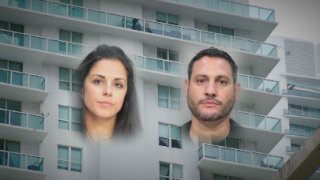 Editor's note: Since this story was first published, Irene Sofi got probation on the misdemeanor charge of contracting without a license. Prosecutors didn't pursue the theft charge. Rene Lezcano also received probation on a felony theft charge as well as the misdemeanor contracting without a license charge. The company was administratively dissolved through the state soon after the charges were filed.
Police arrested a woman who owns a business and is accused of taking customers' money but not doing the work. They believe there may be other people who were ripped off by the same company.
On this surface, Florida's Best Installs seemed to be doing business the right way. They appeared to have a state business license and the correct documentation on their website. But we talked to one man whose issues with them led to the arrests.
Only NBC 6 was there when Miami Police Detective Saens Dorcely took the manager of Florida's Best Installs into custody. The woman, Irene Sofi, has been charged with grand theft and contracting without a license.
Police and several victims said the window company, contrary to its name, didn't install anything.
"Absolutely nothing. They never returned to the property, never gave me a call back, never even made an effort to provide the service. It looks like the entire thing was a scam from day one," said Ben Solomon of Miami.
Solomon wrote a hefty check of $21,000 earlier this year to get Sofi and her company started installing sliding glass windows in his family's condo.
The contract shows the deposit was paid, but Solomon said his money went down the drain and he ultimately filed complaints with the county and used his skills as a real estate lawyer to get a judgment in court against the company.
"They had posted a false general contractor license to their website, which we found out after the fact, they weren't even associated with the other contractor," Solomon said.
A photo shows police arresting Rene Lezcano, who allegedly was also in on the window scam. He too faces charges of grand theft and contracting without a license.
Miami Police said more people have now come forward.
"These individuals might talk a big game, might have even samples, might even have testimonials, but again, we have to do our diligence and we have to do our homework," said Lt. Freddie Cruz with Miami PD.
A woman at the company's registered address told NBC 6 she had nothing to say.
"Basically, they are stealing this money," Lt. Cruz said.
"Just being as vigilant as possible to get these guys to stop doing this with other people and to pay the price on what they did," Solomon said.
Solomon was savvy enough, due to his legal training, to be able to begin to address this once he realized what was going on and ultimately police moved in.
It's rare when police are able to get enough in these cases to actually make arrests; typically they end up in civil court.
Police said they believe this isn't isolated to Miami and think there are victims across South Florida and their recommendation is for you to contact your local police department.