An officer shot one suspect and detained three others in Miami Lakes Tuesday morning after a pursuit of a stolen car that began in Hialeah, officials said.
Officers responded to the area of Northwest 154th Street and Northwest 89th Avenue for the incident, which reportedly began in east Hialeah.
According to police, 18-year-old Daniel Placide and three other teens, ages 16 and 17, were spotted in the stolen vehicle and a pursuit began.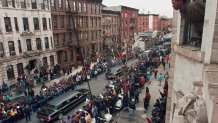 At one point, two of the suspects got out of the car and that's when an officer shot a suspect, who was taken to a nearby hospital in stable condition.
Two of the suspects were taken into custody at the scene. Several officers were seen responding to the area and a police helicopter was also at the scene as authorities searched for the other suspect, who was later caught.
Placide was shot by an officer during the takedown in Miami Lakes. He was treated at the hospital and released. He along with the three teens remain behind bars on several charges including armed robbery and fleeing and eluding the police and resisting arrest.
Police said three firearms were found in the car, a Chevy Malibu believed to be involved in a carjacking last week.