Health officials issued a rabies alert Tuesday after a cat tested positive for rabies in North Miami Beach.
The Florida Department of Health in Miami-Dade County said in a statement an unvaccinated pet cat had to be euthanized after it showed neurological symptoms consistent with rabies while in quarantine.
"There were four human exposures who had been advised to receive rabies post exposure prophylaxis," the statement read.
The rabies alert is issued for 60 days and ends on Nov. 24, 2018. It covers the following areas:
NE 163rd Street to the North,
NE 151 Street to the South,
Biscayne Blvd to the East,
NE 14th Avenue to the West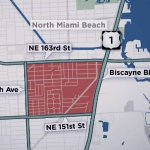 This is the seventh confirmed rabid animal, including six raccoons, that have been identified in Miami-Dade.
"There is a lot of feral cats inside the community, and people don't have the cats fixed, and I'm afraid Katz are going to get scratched, and it's just an amount of time before a kid gets scratched," said resident Sheila Allen
Rabies is a nervous system disease that can be fatal in humans and warm-blooded animals – with the only treatment for human exposure being a specific immunization.
DOH officials advise all residents to keep their pets' vaccinations up to date and keep them under supervision while outside and to avoid wild animals, including raccoons, bats, foxes, coyotes and others.
Miami-Dade Animal Services and city officials will be going door to door in the area to alert residents as well as offer free rabies shots for animal owners.
Humans are also not advised to feed wild animals or bring them into their home. Anyone who may have been exposed to a wild animal can call the DOH's Miami-Dade office at 305-324-2400.
Click here for more information about rabies.