A Miami Beach commissioner who once was considered a top candidate to be the city's next mayor resigned Tuesday and entered a no contest plea to a charge of violating campaign finance laws.
Michael Grieco, who has served one term as the Group 2 commissioner for the city, sent an email announcing his departure two weeks before his term was set to end.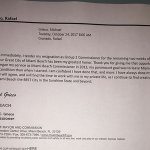 As part of a deal worked out with prosecutors, the 42-year-old one term commissioner who previously worked for the state attorney's office will receive a one year probation sentence – during which time he will not be able to seek office.
The Miami Herald reported that Grieco allegedly accepted a political donation designed by what is referred to as a "straw donor," a misdemeanor law in Florida. His attorney, Ben Kuehne, said that Grieco never meant to have unauthorized contributions made to a political action committee and that all money has been returned.
Grieco sent an email to supporters saying that, while he will no longer be in office, he will continue to serve the community as an advocate of issues.
"Our relationship with you and the City may be different in a formal way, but the emotional commitment will not be changing when it comes to protecting and improving our quality of life as a community," he wrote.

Grieco was first elected to the city commission in 2013, as the former lawyer was elected among a wave of change in the city that included the election of current mayor Philip Levine.
When Levine announced in January that he would not seek a third term, Grieco announced his candidacy for the post before withdrawing from the race in July. In September, Grieco announced he would not seek re-election to the commission as the investigation continued.