A woman who was shot Friday night while driving on Interstate 95 in Miami has passed away, highway officials say.
The incident occurred at around 8:30 p.m. in the area of Northwest 79th Street, according to Florida Highway Patrol Lt. Alex Camacho.
The woman, who was driving a silver Chevy sedan, was traveling southbound on the highway when the passenger in her car said he heard gunshots and noticed she had been shot, Camacho said. He jumped out of the vehicle and onto the roadway shoulder.
The driver, identified by police as 22-year-old Melissa Gonzalez, later died at Ryder Trauma Center, according to highway officials.
Gonzalez would have turned 23 later this month. Her family says she had graduated from Florida International University in the summer of 2019.
Gonzalez's mother, Shiella Nunez, told NBC 6 that her daughter was on the verge of taking the LSAT and applying to law school.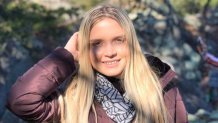 Investigators say the passenger, 26-year-old Veliz Cortina, recalled the shots coming from a dark colored vehicle.
Police have not released any additional information.
Check out live traffic conditions at nbc6.com/traffic.