A major water main break in a section of downtown Miami on Wednesday caused flooding and problems for commuters and residents and also raised concerns to environmentalists.
Miami Fire Rescue officials said there was a "significant break" at 201 South Biscayne Boulevard.
Miami Fire Rescue Lt. Pete Sanchez said firefighters responded to the area around 7 a.m. and found water flowing out of a large crack in the pavement.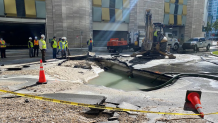 "Several parts of the pavement were cracked and water was actively flowing below the concrete. It is flowing into two or three buildings that are in the area that have underground parking," he said, adding that crews were working to determine where the leak was coming from.
Aerial footage showed a watery mess with some of the water flowing into nearby Biscayne Bay.
The waterline was fixed Wednesday evening and the water restored to the nearby buildings just after 9 p.m.
County officials issued a precautionary boil water order to the following addresses:
• Met 1, 300 S Biscayne Blvd
• Muze, 340 SE 3 St
• South East Financial, 200 S Biscayne Blvd
• Citi Group Center, 201 S Biscayne Blvd
The order advises residents to boil their water prior to drinking, cooking, brushing teeth, making ice and washing dishes until further notice. Water should be brought to a full rolling boil for at least one minute. Bottled water may be used as an alternative. Water can be used for bathing and other household needs.
Drivers were still advised to avoid the area of Biscayne Boulevard from SE 2nd Street to Biscayne Way and SE 3rd Avenue to Biscayne Boulevard.
Officials with the Miami-Dade Water and Sewer Department do not believe cold weather had anything to do with the spontaneous break and instead looked at aging infrastructure as the possible cause.
"The oldest pipes in the city tend to be downtown and some along Brickell, some along 8th street. This was one of those pipes that was already being designed for replacement," said Kevin Lynskey, the director of Miami-Dade Water and Sewer. "We were at 60% design today and our construction schedule has had construction beginning within one year so this one of those pipes that we had hoped to replace before we saw a break in it."
Metromover service in the area was suspended as crews made repairs. Free shuttle buses were provided for affected commuters.
Recently installed stormwater drains helped dry things up. There were some environmental concerns about the water draining into the bay, but officials say the water was treated.
"Obviously it would have been better if this pipe hadn't burst and it was scheduled to be repaired, but this was clean water so people shouldn't be super, super worried about that," said Miami-Dade Commissioner Eileen Higgins.
City of Miami Commissioner Ken Russell went live on Twitter after the water main break happened and highlighted his concerns about the environmental impact of the break.
"Everything we put into the Bay reduces oxygen, kills fish, reduces photosynthesis of seagrasses and covers corals," Russell said. "Even though this was clean water, in this case, coming from a broken main, it was running sediment, sand, mud out into the Bay and that was certainly silting the area."
It's a concern echoed by the Miami Water Keeper.
"This incident, in particular, was a really large plume that was really dense," said Rachel Silverstein, executive director and full-time water keeper. "It's really death by a thousand cuts. Each individual incident may not be a huge impact, but they're happening so frequently and in so many areas around the Bay, overall has a really corrosive effect on water quality and the health of the Bay.
"I think this is a really great example of why we need to invest in our water and sewer infrastucture here in Miami."
Russell says he has a good working relationship with his county counterparts, like Commissioner Higgins, and says he will continue to work with the county to find out what happened with this pipe and to continue to address the aging infrastructure issues in Miami.