One teenager was killed and two others were injured in a drive-by shooting Wednesday night in southwest Miami-Dade, police said.
Officials responded at around 8:40 p.m. to the 22300 block of Southwest 115th Avenue, in Goulds.
Detectives said a vehicle drove by the teens and someone inside the vehicle shot at them. Two 16-year-olds were transported to the hospital -- one was in stable condition, and the other teen's condition was unknown.
A 17-year-old was pronounced dead at the scene, police said. He was later identified as Clinton Young.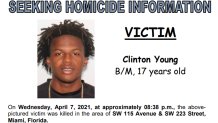 Young's uncle said the teen had just gotten off work at a fast food restaurant around the corner and had stopped by his aunt's home and was outside with his friends when shots rang out.
"When you have a kid that's hard working, doesn't bother anybody, doesn't do anything and really was just getting off work, at the local chicken restaurant, just came by his aunt's house and boom, he's dead," said Young's uncle, Reverend Anthony Ancrum. "This was a good kid. Those kids were not gang bangers, they were not going around creating havoc in the community."
Further information about the other victims or possible suspects was not available.
"This gun violence is affecting our juveniles and here we have another example, it's unfortunate that another juvenile loses their life and another two are at the hospital," Miami-Dade Police spokesman Alvaro Zabaleta said. "We're urging the community to come together with the police department on this investigation and let's see if we can identify these individuals who obviously are considered armed and dangerous."
Miami-Dade County Public Schools Superintendent Alberto Carvalho also spoke out about the violence.
"Tonight, murderous, cowardly gun violence victimizes three teenagers in our community," Carvalho tweeted. "When will enough be enough? Silence about what happened is tantamount to complicity. Speak up and help end this heartbreaking and sickening carnage."
Anyone with information about the shooting can call Crime Stoppers at 305-471-TIPS.