Like many teens, Alexandra Karob-Volpina loves to be active. In cell-phone and home videos, she can be seen dancing at a ballet performance and showing off her skills as a gymnast.
"I used to be able to do back flips, aerials, a lot of things," she said.
But Alexandra, 13, now says life has changed.
About two years ago, she was bouncing off at the Off the Wall trampoline park in Coconut Creek when she got injured.
"Someone ran by and just jumped on my ankle as I was landing," she said.
She broke her ankle and was rushed to an urgent care.
Today, her scar is still visible.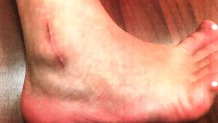 "I just remember sitting down on the floor crying. Looking at my ankle thinking 'what just happened?,' she said. "It hurt. It really hurt."
Alexandra's experience is not unique.
NBC6 Investigators reviewed 911 calls made from trampoline parks across South Florida. In the past two years, close to 300 calls were about injuries and falls. In at least 70 incidents, paramedics showed up.
Among the calls, a four-year-old boy who sprained his ankle. A six-year-old girl left bleeding after someone jumped on top of her. A boy who fell and busted his head at a park in Broward County last month according to dispatch records.
William Ruggiero, a personal injury attorney based in Fort Lauderdale, has worked on several cases against trampoline parks. He says that he has seen people report a variety of injuries including wrist and leg fractures, even head injuries.
"It's a very dangerous place to be," said Ruggiero.
According to dispatch records, 911 was called more than 60 times in the last two years to the Off the Wall location where Alexandra got hurt. Hers was one of two calls for help made that day.
Our producers visited the trampoline park last month. Despite prominently displayed safety signs and at least two employees supervising, they saw teens doing risky flips even though double bouncing and multiple flips are not allowed.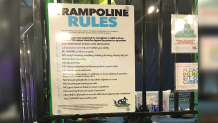 A 2016 study published by the American Academy of Pediatrics showed that, trampoline park injuries increased ten-fold in just four years. That study concluded that parental supervision is key.
Bethany Evans, the Executive Vice President of the International Association of Trampoline Parks, said customers' safety is a top priority for IATP, the industry's largest trade group, and that they take every incident as a serious matter.
Evans says the organization takes every opportunity to recommend its members, some including parks in South Florida, to take steps to mitigate risks. Off the Wall is not a member of IATP.
Alexandra says the months following her injury were tough: two surgeries, therapy and no fun activities like dancing.
"It sucked," said the teen candidly. "When you think of a thirteen-year-old, you're in the period of time when you're living your life the most and that's something I couldn't do half the time."
"I remember feeling so bad for my parents because they would have to go through so much trouble to make me feel better. I felt bad for everyone who I knew would be putting up with my pain," she added.
Alexandra and her family filed a lawsuit against Off the Wall. The Broward Clerk's website shows it's one of at least 12 lawsuits filed against the company as a result of injuries. Ruggiero is their attorney.
Their lawsuit claims that the park was negligent and failed to have proper supervision, which ultimately resulted in Alexandra's injury. The company declined to talk with NBC6 about the ongoing case but in court filings, it denied the allegations and said it was the teen's own actions that led to her accident.
Off the Wall also told the court it cannot be held accountable because her dad signed a waiver.
From court filings, we obtained a copy of the waiver that the company says Yan Karob signed. In it, he agrees not to take legal action if anything were to happen to his daughter, even in the case of death or negligence. The first page of the waiver has a strongly worded warning including that Off the Wall's trampolines are "dangerous" and have "inherent risks."
Ruggiero said the fine print of the waiver was not something that parents often pay close enough attention to.
"It's just not something you read," he responded. "If somebody were actually to sit down and read, you probably would not let your kid go in."
Karob admits that he didn't read the waiver.
"I signed it without even really looking," he said. "I wasn't thinking at that point."
And that decision could cost him.
Off the Wall is now suing Karob because of what he agreed to by signing the waiver including paying for the cost of any claims filed against Off the Wall. If he loses, he may have to pay attorney fees for the trampoline park's attorneys.
Ruggiero describes the company's lawsuit against the family as "the biggest insult of all."
NBC6 reviewed the waivers of 13 trampoline parks in South Florida and found that nearly all include the same wording. By signing it, parents are basically agreeing to give up their child's right and their right to recover damages in a lawsuit that results from injuries or death.
The wording is not a coincidence.
Florida law (F.S. 744.301) allows these waivers to be used in court when they include that specific language but only for activities that are considered inherently dangerous.
The statute reversed the Kirton Florida Supreme Court decision, which held that parents and guardians cannot execute pre-injury releases on behalf of minors in commercial activities.
Ruggiero thinks more companies will start using waivers even simply buying products.
"Your receipt is going to be a waiver one day," he quipped. He and other personal injury attorneys said that these waivers don't give companies a license to be negligent, which is a basis for a lawsuit.
In a phone conversation, the IATP spokesperson said they encourage members to have waivers but the organization won't get involved in any litigation related to them.
"We focus on the big picture," Evans said.
Ruggiero says that a parent who signs for someone who is not their own child could also be putting themselves at risk legally.
We sent one of our producers to the Off the Wall location in Coconut Creek with a teen who wasn't her child. An employee asked her to sign a waiver. She explained that she was not the teen's mother or legal guardian but was encouraged to sign it anyways. Our producer asked the employee if that was okay several times and got the same response.
We asked the company's attorney about what happened but he declined to answer our questions.
Alexandra says she will never go back to a trampoline park and has a message for others.
"I want them to be careful," she said. "Yes, you want to go and have fun but you need to think about the consequences before you do something because then it can completely change your life."