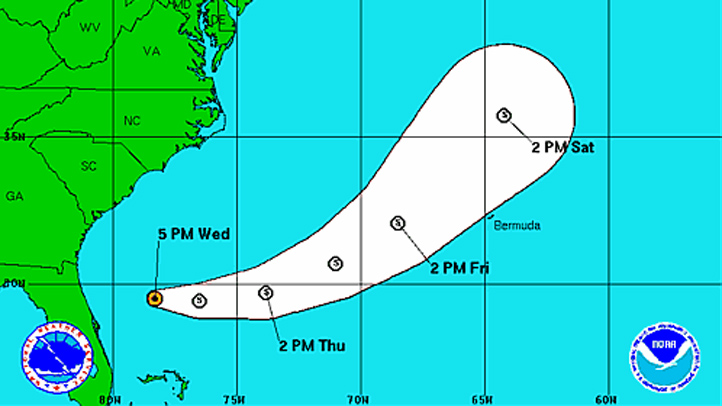 What was tropical depression Debby lost its tropical characteristics Wednesday and is now just a post-tropical cyclone, according to the National Hurricane Center in Miami.
The threat of heavy rain decreased on Wednesday as tropical depression Debby moved away from Florida, forecasters said.

As of shortly before 5 p.m.., Debby had maximum sustained winds near 40 mph as it moved east at 13 mph about 180 miles east of St. Augustine.
The storm had a poorly defined center, but gale-force winds extended outward up to 105 miles to the southeast of the center, the National Hurricane Center said in its last public advisory on Debby.

There were no coastal watches or warnings in effect.

Rainfall will continue to diminish across the Florida peninsula, with isolated additional rain of up to 1 inch possible in some lingering rain bands, mainly over southern Florida, forecasters said.

Debby had been downgraded from a tropical storm to a tropical depression Tuesday night, but not before it had swept through north Florida, flooding homes and roads and even closing a section of Interstate 10.
Troopers reported several areas of flooding on a roughly 50-mile stretch of the east-west interstate east of where it crosses I-75 and the agency warned motorists to use extreme caution on other parts of the highway.

South of that stretch of I-10, four puppies and a young dog drowned when a swollen creek flooded an animal shelter in the city of Starke. The Florida Times-Union reported that officials placed sandbags and dug trenches outside to protect the shelter, but the water rose quickly Sunday night.

Farther south, in the Tampa Bay area, roads such as Tampa's Bayshore Boulevard were washed out. Residents tried to salvage belongings from flooded homes in low-lying areas. At one point Monday, high winds and flooding concerns prompted authorities to close two major routes over Tampa Bay into St. Petersburg.

A mother manatee was found dead in the water Tuesday off Bayshore Boulevard. Her two calves, which were still alive, washed ashore along the flooded road which runs along Tampa Bay. Members of the Tampa Police Marine Patrol called Lowry Park Zoo and the Florida Fish and Wildlife Conservation Commission to help with the rescue of the baby manatees.

At least one person was killed Sunday by a tornado spun off by the large storm system.

Florida Governor Rick Scott declared a statewide emergency, allowing authorities to put laws against price-gouging into effect and override bureaucratic hurdles to deal with the storm.
Copyright AP - Associated Press