The newest named storm of the 2016 Hurricane season is official as Tropical Storm Matthew formed Wednesday near the Windward Islands.
As of 5 p.m. Wednesday, Matthew had maximum sustained winds of 60 MPH and was moving to the west at 18 MPH about 65 miles west of St. Lucia, according to the National Hurricane Center in Miami.
Over the next few days, the forecast track has it moving that direction and staying south of Puerto Rico, Haiti and the Dominican Republic. After that point, some of the projections have it becoming as strong as a Category 2 hurricane, traveling over Jamaica.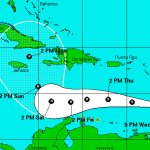 It is still too early to tell what kind of an impact the storm will have on South Florida.
A tropical storm warning was in effect for St. Lucia, Guadeloupe and Martinique, Dominica, Barbados, St. Vincent, and the Grenadine Islands.