Two men were hospitalized and a third is facing charges after gunshots were fired in a cargo area adjacent to Miami International Airport Thursday night, according to Miami-Dade police.
The shooting occurred around 7 p.m. off Northwest 66th Avenue.
Police said a workplace dispute from several days prior to the incident escalated into a physical confrontation between four adult males, with one of the men pulling out a gun and opening fire.
The two victims, who are 18 and 23, were transported to the hospital in a personal vehicle by relatives who work in the same warehouse, police said.
One of the victims was struck in the lower extremities and the other in the abdominal area. Both were in stable condition.
Police later charged 31-year-old Jackson Etienne with two counts of aggravated battery with a firearm in the incident.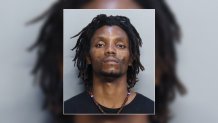 Etienne was booked into jail and was being held without bond Friday, records showed. Attorney information wasn't available.