A combat-wounded veteran met with Baptist Health Hospital doctors and staff Monday ahead of the soldier's 33rd surgery on his leg.
In 2008, Anthony Ameen, who is a Purple Heart recipient and was a Hospital Corpsman in the U.S. Navy, was running to save the life of a wounded Marine during a counterattack in Afghanistan, when he stepped on an IED. The explosive shattered his legs and crushed a wrist and two fingers.
"He lost half of his first leg in the IED injury and the shrapnel went all in to his second leg and that has caused a chronic infection that he hasn't been able to cure," said Dr. Jill Waibel, Baptist Health Chief of Dermatology and Restoring Heroes champion. "If it goes uncured then he will for sure lose the second leg."
The father of four from Phoenix, Arizona has undergone a leg amputation and countless surgeries. However, his final surgery at Baptist Health gave doctors a chance to save his remaining leg.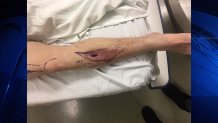 "Success would be Anthony being able to wake up in the morning and not have to worry about his leg," said Dr. Charles Jordan, a Baptist Health Orthopedic Surgeon.
Ameen needs one more simpler surgery, which is scheduled for Tuesday. After that, doctors announced he will be able to fly home by the end of the week.
"I kind of wanted to go through the process so I can be beneficial and helpful to other wounded warriors," said Ameen.
Ameen said a lot of wounded warriors do not want media attention, but he's at the hospital to help those with his group, Wings For Warriors.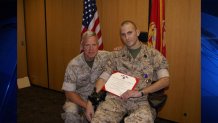 "'Embrace the suck' is a term they use in the military and I would just say 'embrace the suck, take the day on and everyday is going to have its obstacles and challenges, but it's what we do with those obstacles and challenges,'" Ameen said.
To learn more about Restoring Heroes visit www.restoringheroes.org. To find out more about Anthony's organization, Wings For Warriors, visit www.wingsforwarriors.org.
CORRECTION: (Aug. 8, 2017 6 p.m.): An earlier version of this stary said Ameen was a Marine veteran. He is a veteran of the US Navy.