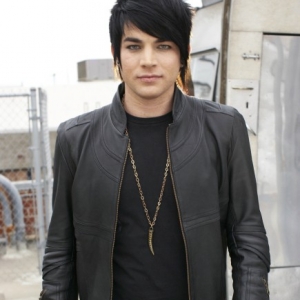 Adam Lambert has just made it into the "American Idol" Top 12, but some fans are already calling the singer a possible Jonas Brother.
"I'm like the older evil step-brother," he told AccessHollywood.com's Dish of Salt, Laura Saltman. "Alright, that's good."
VIEW THE PHOTOS: Access Hollywood's Laura Saltman At The 'American Idol' Experience
The singer's edgy looks have also garnered comparisons to the vampires of "Twilight," and Adam was quick to proclaim his love for the film and books.
"Maybe I'll be in a movie, let me just put that out there," he said. "I follow the 'Twilight' books and I love them."
VIEW THE PHOTOS: 'American Idol' Top 36 Semi-Finalists
Adam drew praise from the judges for his colorful performance of the Rolling Stones' "(I Can't Get No) Satisfaction" last week, and he said fans can expect more of the same.
"I'll be costuming myself like crazy," he said.
And though he has a background in musical theater, it's rock and pop that Adam has set his "Idol" sights on.
VIEW THE PHOTOS: Former 'American Idols'
"They keep throwing the theatrical card at me," he said. "I don't take it in a bad way. I did a lot of theater for bread and butter to pay the bills, but I've also been in a rock band and… done a lot of recording session work, and my own stuff, too."
Related Content from AccessHollywood.com:
PLAY IT NOW: Dish Of Salt: More 'Idol' Contestants Join Top 12 (Feb. 27, 2009)
PLAY IT NOW: Dish Of Salt: The Jonas Brothers' Theater Invasion!

MORE ACCESS ON THESE TOPICS: American Idol - Music - Twilight - Reality TV - Celebrities

Copyright NBCAH - Access Hollywood