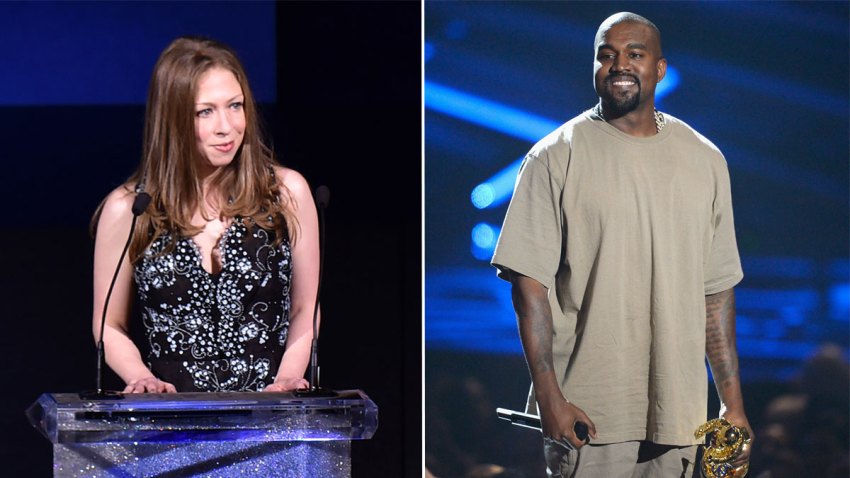 As Hillary Clinton continues traveling across the country in hopes of becoming the Democratic nominee, her daughter was asked about one famous rapper's political ambitions.
Former first daughter Chelsea Clinton remained diplomatic when fielding a question about Kanye West's recent declaration at the MTV Video Music Awards that he'll run for president in 2020.
"I definitely think who runs for office is really important," she told MTV News while supporting The Clinton Foundation's No Ceilings Project. "Even if him just saying that helps sparks a little boy or a little girl who was watching the VMAs to think, 'Oh, wow! Maybe I should do that,' that's awesome."
PHOTOS: Kanye West's most outrageous quotes
While accepting the Michael Jackson Video Vanguard Award, West announced to the world that he wants to run for the White House in the next election cycle.
"It's about ideas bro, new ideas. People with ideas, people who believe in truth," West said. "And yes, as you could have guessed by this moment, I have decided, in 2020, to run for president."
Ice Cube has already shown his support, while GOP presidential candidate Donald Trump said he hopes "to run against" him sooner rather than later.
As for whether or not Chelsea Clinton would ultimately cast her vote for the "All Day" rapper, it's more than a little early to make a final decision.
"I think it depends on who he'd be running against," she said.
It may not be a definite no. But if Hillary Clinton is in office and running for a second term, well, better luck next time Yeezus.
Copyright E! Online