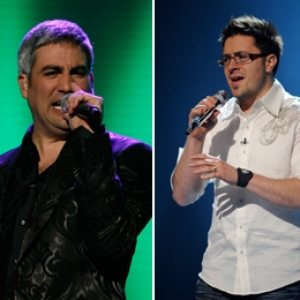 There may not ever be another leader of the Soul Patrol, but season five "American Idol" champ Taylor Hicks says he doesn't mind being compared to Danny Gokey, the bespectacled season seven fan favorite.
"Well, I'd like think I was just a little bit better dancer," Hicks joked recently to AccessHollywood.com's correspondent Laura "Dish of Salt" Saltman backstage at a taping of Fox Reality Channel's "American Idol Extra."
VIEW THE PHOTOS: 'American Idol' Season 8 Top 13
Gokey earned high praise from judge Simon Cowell but failed to win any points with his dance moves while performing Michael Jackson's "P.Y.T." last week.
Hicks believes it's Gokey's loss of his wife (just months before the audition) that is shaping him as a singer.
VIEW THE PHOTOS: Former 'American Idols'
"He has a distinctive voice and I think it's because of the pain and the loss. Over time experiences show up when you sing as far as when you hear tone. I think that's the reason why he is doing so well."
As for his staying power in the competition Hicks says, "I think he has got a shot to win."
And he offers this advice to Danny, "I think when you are on Idol you have to just go out there with this reckless abandonment. You have to go out there and lay it all out," he said. "You have to dance. You have to sing. You have to move across the stage. People want to see you move. They want to see you go out into the crowd. I think performance is just as big as the vocals."
VIEW THE PHOTOS: Taylor Hicks USO Concert
Hicks can be seen in an upcoming episode of "American Idol Extra" performing "What's Right Is Right," the brand new single off his sophomore album, "The Distance." The album hit stores March 10.
Hicks can also be seen in the national tour of "Grease" as Teen Angel through May 2009.
Related Content from AccessHollywood.com:
PLAY IT NOW: Dish Of Salt: 'Idol' Changes The Rules (March 14, 2009)
PLAY IT NOW: Dish Of Salt: Taylor Hicks Talks 'Idol' & Dating

MORE ACCESS ON THESE TOPICS: American Idol - Reality TV - TV - Simon Cowell - Dish Of Salt

Copyright NBCAH - Access Hollywood