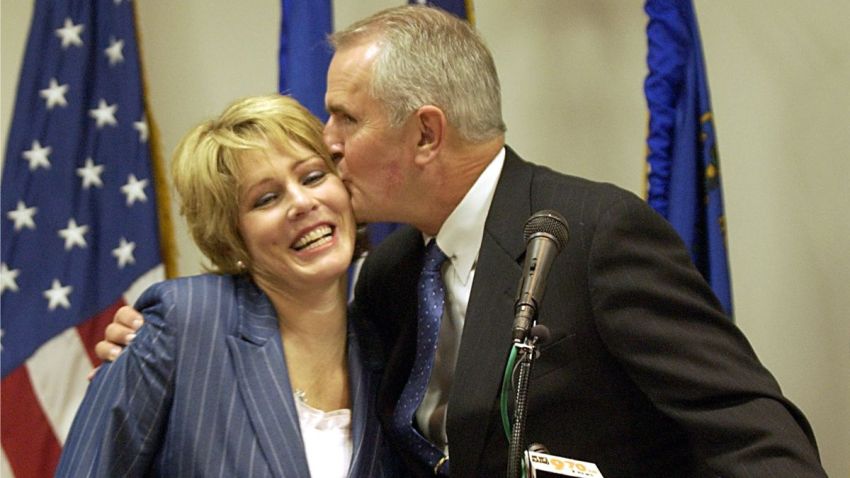 RENO, Nev. — First lady Dawn Gibbons accused Gov. Jim Gibbons in divorce papers of having extramarital affairs with a former Playboy magazine model and another woman to whom he sent hundreds of text messages.

The Republican governor has been untruthful about his "infidelity" with the two women, his estranged wife says in a divorce filing, which was unsealed Monday by a court order in Washoe County Family Court.

Dawn Gibbons identified one of the women in court documents as Kathy Karrasch. She's the woman the governor used his state cell phone to send more than 860 personal text messages over several weeks in early 2007.

Gibbons publicly apologized last year and reimbursed the state $130. He denied the messages were "love notes."

Dawn Gibbons' divorce filing identified the second woman as Leslie Durant, who is the former wife of ex-Reno Mayor Pete Sferrazza and once posed nude in Playboy magazine.

The governor has insisted both women were just friends.

He filed for divorce last May, citing "incompatibility" with his wife. The two had been married since June 1986.

The first lady alleged Gibbons was having an affair with a woman who had known the couple for years and that was the real reason why the governor wanted a divorce.

Dawn Gibbons accused her husband of committing adultery and said he "has had similar relationships with many other women during the marriage."

Dawn Gibbons said that Karrasch "has stated that she is the mistress" of the governor. The first lady said that relationship dates to the time Gibbons served in Congress before he was elected governor in 2006.

In one motion, Dawn Gibbons asked the court to "use its power to bring two married women before it and permit me to ask them if they had sex with my husband during our marriage and theirs, how much he spent to woo them and keep them, and for them to bring various documents with them to court to prove they or he are untruthful."

Court documents show the governor sought an order to prevent Dawn Gibbons' lawyers from taking testimony from Karrasch and Durant.

Gibbons had fought to keep the case sealed, but Washoe County Family Court Judge Frances Doherty ordered most of the documents unsealed.

"The governor disagrees with the court's decision, but will obey it. He otherwise has no comment," said Gary Silverman, a Reno lawyer representing the governor in the divorce case.

A few months before filing for divorce, the governor's office acknowledged the couple was having marital problems and that he had moved out of the mansion. Dawn Gibbons stayed in the governor's mansion for a while, but now lives in an adjacent apartment on the grounds.

The governor said in court documents he wanted her to move out of the governor's mansion because the first lady was aggressive.

"It was once said in another context that being in close quarters with such a volatile person was like being locked in a phone booth with an enraged ferret," the documents said.

Dawn Gibbons also said the governor was untruthful when he said through a political adviser last spring that he had asked for the divorce because the couple had drifted apart.

"These statements were falsified," she said, part of an ongoing effort to "preserve and protect his political future."

She also said that her husband's explanation that he used the text messages to consult with Karrasch on matters related to state government "is false and is laughable."

Dawn Gibbons also made references to an incident in Las Vegas in October 2006 just weeks before the election in which a cocktail waitress, Chrissy Mazzeo, accused the governor of making unwanted sexual advances and threatening to rape her in a parking lot.

Gibbons has denied the allegations and no criminal charges were filed.

Dawn Gibbons said her husband "sought and obtained my support of his story while he publicly stated that he was happily married to me and that the accusations were false."

"I stood by his side and supported his candidacy notwithstanding this terribly embarrassing and distressing event," she said.

Mazzeo since has filed a civil lawsuit accusing Gibbons of battery, false imprisonment and second-degree kidnapping, as well as lying about the incident.

Copyright AP - Associated Press