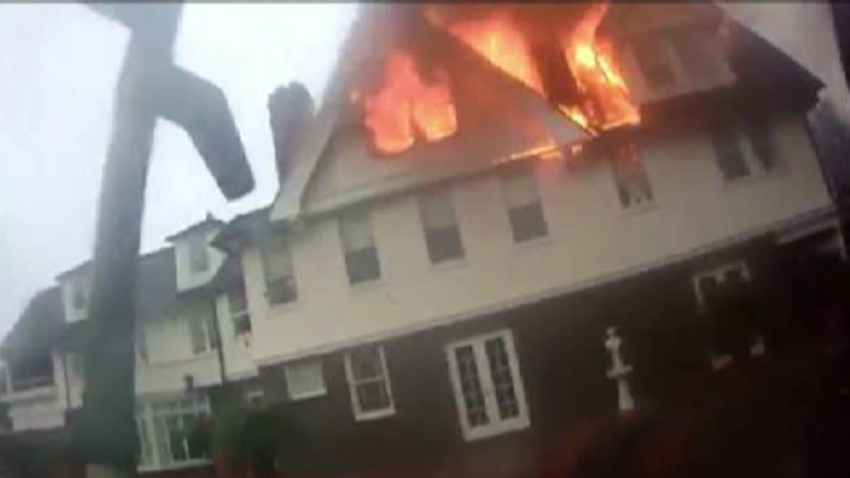 Dramatic video from a firefighter's helmet cam captures a spectacular blaze in New Jersey as a mansion built in the 1880s goes up in flames.
The four-alarm fire Monday at the Rumson estate known as Blithewald illuminated the sky, with giant flames leaping from the structure as sparks flickered in front of the faces of firefighters battling the blaze inside. The helmet video shows the dangers they faced as they fought through thick smoke, flames and water for nearly six hours to get the blaze under control.
Brett Murphy, a Sea Bright volunteer deputy fire chief, told NBC 4 New York, "It's what we signed up for." Murphy's brother was wearing the helmet cam that captured the dramatic video.
No injuries were reported and the blaze at the 22-room mansion built in 1883 has been ruled accidental, though prosecutors have yet to identify an exact cause. Firefighters from 10 departments responded.
Former Sea Bright fire chief Joe Eskridge says the helmet cam is "probably one of the best tools you can have besides water" when it comes to coordinating fire response and investigations.
Before it went up in flames, the mansion was being decorated by more than 40 interior designers and landscapers for a month-long home tour fundraiser on behalf of the Visiting Nurse Association of New Jersey.
A spokesman said the nonprofit is reviewing alternatives to meet its budget. According to the group's website, the mansion was referred to locally as the "Gatsby House" because F. Scott Fitzgerald was a friend of the owner in the late 1880s and visited frequently.
The house, which has seven bedrooms, eight bathrooms and sprawls across 4.3 acres of land, is currently owned by Thomas Widener, a Deutsche Bank Securities Inc. executive.