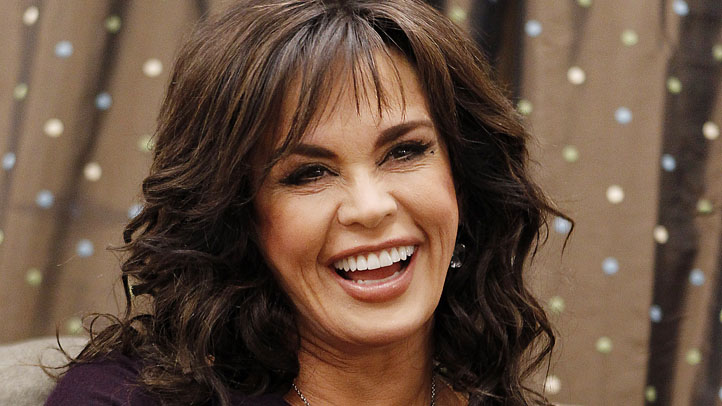 Marie Osmond tied the knot on Wednesday – and the groom was a very familiar face.
Marie, 51, remarried her first husband, Stephen Craig, 54, at the Las Vegas Mormon temple on Wednesday.
VIEW THE PHOTOS: Celebrity Wedding Photos!
"I am so happy and look forward to sharing my life with Stephen, who is an amazing man as well as a great father to my children," Marie said in a statement to People.
It had been rumored for months the two were planning on remarrying, and Access Hollywood reported plans for the nuptials earlier in the day on Wednesday.
VIEW THE PHOTOS: Hollywood's Biggest Broods
Marie – who currently has a gig with brother Donny at the Flamingo Hotel in Las Vegas — and Stephen – a former college basketball player at Brigham Young University in Utah — first married in 1982, when she was 22 and he was 25. They divorced in 1985.
The couple has one son together, Stephen, now 28.
As far as her wedding gown, Marie donned the same Ret Turner-designed dress she wore at the couple's first wedding nearly 30 years ago.
VIEW THE PHOTOS: Hollywood's Hottest Moms & Their Loveable Little Ones
The date of their new nuptials is also significant – it marks the birthday's of Marie's late son Michael (with her second husband Brian Blosil), as well as late Osmond matriarch Olive.
In October 1986, Marie married Blosil. They had two children together, and adopted five more, before divorcing in March 2007.
VIEW THE PHOTOS: Celebrity Siblings
Copyright 2011 by NBC Universal, Inc. All rights reserved.
This material may not be published, broadcast, rewritten or redistributed.
Related Content from AccessHollywood.com:
PLAY IT NOW: LeAnn Rimes & Eddie Cibrian Tie The Knot
PLAY IT NOW: Princess Catherine's Royal Wedding Fashion
More from Access: [ Marie Osmond Weddings TV ]
Copyright NBCAH - Access Hollywood