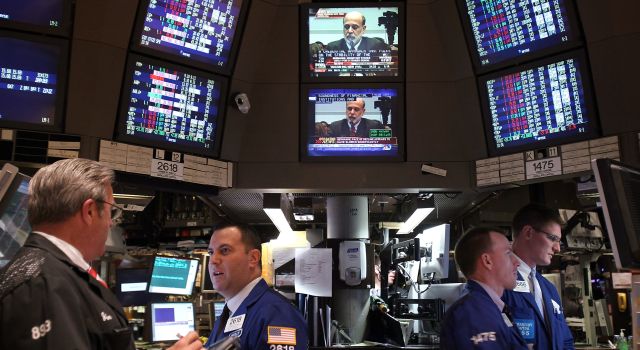 Investors took in a range of seemingly contradictory economic news and left stocks pretty much flat in early trading.
There was reason for optimism, in the form of reports the worldwide recession could be winding down. That came on the heels of word the U.S. economy fell an alarming 5.7% in the first quarter on deep cuts by business. But economists hope the current quarter won't be nearly so bad. Most forecasters see the economy will contract at less that 2% in the April-June quarter.
In early trading, the Dow was bouncing around just below and just above Thursday's closing levels. The tech-heavy Nasdaq was looking to continue a week of solid gains, up slightly.
U.S. & World
Oil and gold appeared on course to extend their rallies, with the price of a barrel of crude up nearly 2% to $66.31 in early trading. Gold was bearing down on the $1,000 mark as investors continue to look for a hedge against the inflation many fear is coming.
Hope that the housing market could emerge from its crippling funk was dampened by rising mortgage rates, with the average 30-year figure jumping to 5.27%, up more than a quarter of a point from earlier this month.
The auto industry's troubles continued, as GM was expected to file for bankruptcy as early as Monday. The working plan would have the federal government assuming a 72% stake in the company in exchange for upwards of $50 billion in taxpayer funds. The United Auto Workers and a group of jilted bondholders would control the remainder of the company.
Chrysler was back in court pitching its plan for emerging from bankruptcy. CEO Robert Nardelli testified that he expects the required U.S. regulatory approvals for the sale of the bulk of Chrysler's assets to a Fiat-led group to be in place by today, with international approvals to come later.
The involved parties are awaiting Federal Judge Arthur Gonzalez's ruling. Attorneys representing three Indiana state pension and construction funds, which hold Chrysler debt, are fighting the plan.
Fiat could back out if the deal doesn't wrap up by June 15.