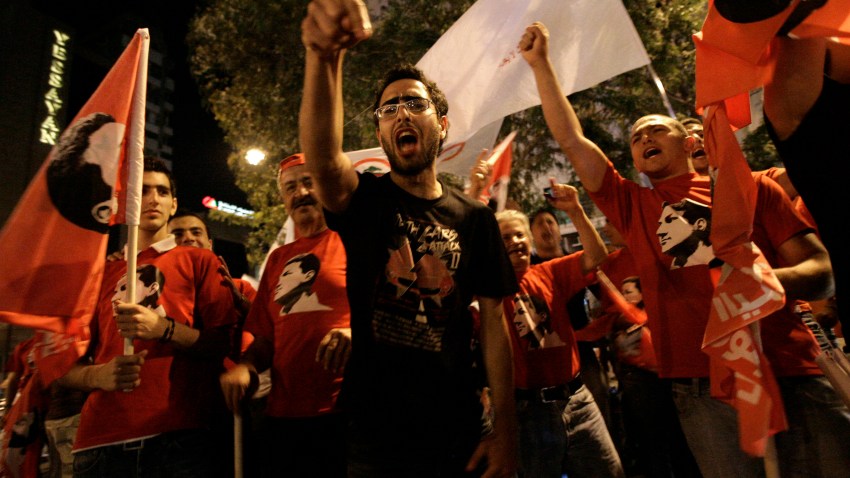 BEIRUT — A pro-Western coalition won Lebanon's parliamentary elections Monday, dealing a major setback to the Iranian-backed Hezbollah and giving a boost to Barack Obama's Middle East peace policy.

Coming just days after the American president reached out to the Muslim world, the vote undercuts the most militant force in Lebanese politics.

It was the first major political test in the Middle East since Obama's groundbreaking address last week, in which he challenged the Islamic world to confront violent extremism and urged Israel and the Arabs to find common ground to establish peace.

Official results, announced Monday, may also set the stage for renewed political deadlock in this sharply polarized, volatile Arab nation. The results mirrored the breakdown of the outgoing parliament, meaning many of the questions that have dogged the fractious nation, such as what to do with Hezbollah's many weapons, remain.

Still, the outcome was cause for relief for many in the West and eased the apprehension of some of America's moderate Arab allies.

"Once more, the people of Lebanon have demonstrated to the world their courage and the strength of their commitment to democracy," Obama said in a congratulatory statement that made no reference to Hezbollah.

Congratulations also came from the U.N. and Arab League chiefs and the leaders of France, Egypt and Jordan. Israel, which warned ahead of the elections that a Hezbollah victory could further destabilize the Middle East, appeared relieved.

"There was an election in Lebanon and the moderate camp won. This is definitely a positive sign," Defense Minister Ehud Barak said. "But the real proof will be ... in the government's ability to enforce order and prevent Hezbollah from continuing military actions in southern Lebanon and throughout Lebanon."

Hezbollah, which controls a militia more powerful than Lebanon's national army, has long opposed America's Mideast policies. A win for the Shiite group, which the U.S. considers a terrorist organization, would have boosted the influence of its backers Iran and Syria and risked pushing the country into international isolation and possibly more conflict with archenemy Israel.

Sunday's vote cleared the way for a visit to Lebanon and Syria by Mideast envoy George Mitchell. A senior Obama administration official said Monday that Mitchell would visit Beirut and Damascus after meetings with Israeli and Palestinian Authority leaders expected on Tuesday and Wednesday. The official spoke on condition of anonymity because Mitchell's exact itinerary has not been finalized.

Paul Salem, the Beirut-based director of the Carnegie Middle East Center, said the election outcome is reassuring for the West.

"Certainly it goes in a positive direction in the sense that it doesn't shake the boat, it reassures the Arab countries, Europe, and the U.S. that there will be no dramatic change of policy," he said. "It reinforces a kind of reasonable rather than a radical situation in the region."

He added that Obama's speech may have helped the pro-Western coalition in the sense that "being allied with the U.S. used to be a very bad thing ... With Obama it's no longer a bad thing, it's rather a good thing."

Still, Obama's words did not resonate as much as a last-minute appeal from Lebanon's influential Maronite Catholic Church to Christians, the main swing vote. Cardinal Nasrallah Sfeir warned of what he called a threat to Lebanon's character and its Arab identity, a clear reference to Hezbollah and its Persian backer, Iran.

Majed Ibrahim, a middle-aged businessman who lives in Christian east Beirut, said he didn't consider Obama's speech when voting on Sunday. But he admits to heeding the church's warning. The Hezbollah-led alliance and its "link to the Iranians and war ideology wasn't attractive to us," he said.

Lebanese leaders called for reconciliation after a bruising election campaign.

"We are on the threshold of a new stage," Prime Minister Fuad Saniora told reporters Monday. "We should try and understand the changes that are coming to our country and the region and to be prepared."

Final results in Sunday's race gave the pro-Western coalition 68 seats to 57 for the Hezbollah-led alliance, with three seats going to independents — an allocation largely unchanged from the outgoing legislature.

Hezbollah retained its 11 seats and its leader Hassan Nasrallah recognized the results Monday.

"We graciously accept the results," the cleric said in a calm voice on television, as celebratory gunfire echoed across Beirut.

Political analysts said the results were a setback for Hezbollah but not a significant political defeat.

"The opposition has maintained a strong presence in parliament," said Ibrahim Bayram, an expert on Shiite affairs who writes for the leading An-Nahar daily.

Carnegie's Salem said Hezbollah is aware it would have faced a host of problems if it had won, including international reaction, vulnerability to Israeli attack and having to run a government. "They're comfortable where they are now," he added.

The leader of the largest bloc in the pro-Western coalition is Saad Hariri, whose father's assassination in 2005 led to huge protests that forced Syria to withdraw its troops from Lebanon.

Hezbollah was boosted by a 2006 war it fought against Israel and along with its allies, it provoked a political crisis in 2007-2008 with demands for political power.

They staged protests that paralyzed Beirut's downtown, a showdown that culminated in street battles that brought Lebanon to the edge of another civil war.

It ended with an agreement to give Hezbollah veto power in the cabinet.

This time around, the pro-Western coalition vowed not to give Hezbollah and its allies a blocking minority in the new government if they won, saying the arrangement paralyzed decision-making. Hezbollah and its allies countered that sharing power ensured peace.

A failure by the parties to agree on how to share power could set the stage for another round of confrontation that could again inflame sectarian tensions.

Copyright AP - Associated Press