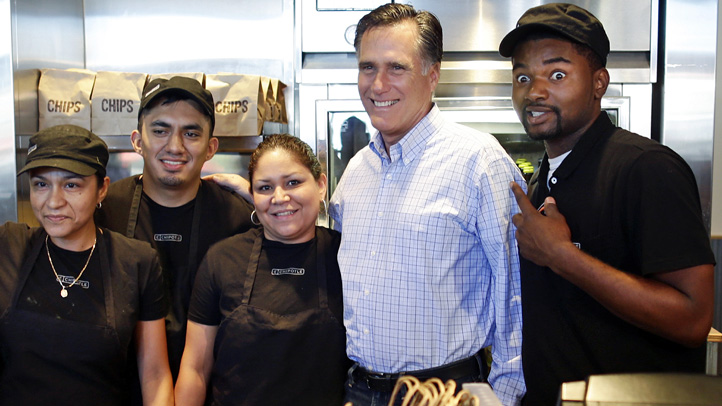 Mitt Romney may not have taken many questions when he stopped in for lunch at a Chipotle in Denver, but a photograph of him posing with restaurant staff is already drawing plenty of attention online.

The GOP presidential candidate's photo op with four Chipotle employees included one worker whose strange expression and pointing at Romney have put the picture well on its way to becoming an internet meme.

Romney and Sen. Rob Portman of Ohio, who has stood in for President Barack Obama in mock debates, had stopped into the outpost of the Denver-based fast food chain Tuesday as they broke from preparing for Wednesday's debate.

Both men ordered pork burrito bowls, Romney with rice, black beans, salsa and guacamole and Portman with brown rice, salsa, hot sauce and guacamole, The Washington Post reported.
According to The Associated Press, Romney did not answer reporters' questions during lunch, though the Post reported that he did tell a reporter who asked about his debate prep progress, "I'm getting there."
The lunchtime photo op came just weeks after a photo of Obama from the campaign trail made news. That photo showed a Florida pizzeria owner hoisting the president off the floor in a zealous bear hug.
Romney faces off with Obama at 9 p.m. ET Wednesday night at the University of Denver for the first of three presidential debates.