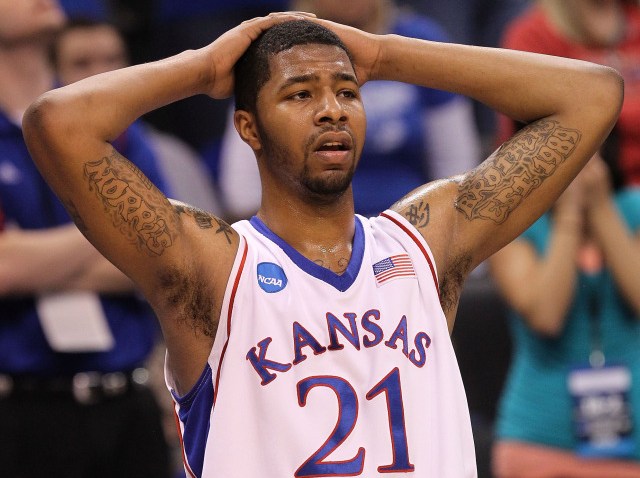 The first giant has fallen.
Overall tournament No. 1 seed, historic powerhouse and heavy favorite Kansas was defeated Saturday night by Northern Iowa, a 69-67 loss that stunned the sports world and busted brackets across the country -- including President Barack Obama's.
Obama was one of 98 percent of ESPN.com entrants into the site's Tournament Challenge pool who forecasted Coach Bill Self's Kansas Jayhawks would make it to the Final Four and one of the 42 percent who had Kansas winning the entire tournament, according to the sports network's Web site.
Less than one percent put Northern Iowa (30-4) into the Sweet 16 -- where the school finds itself now -- while less than half of a percent had the school making it to the Elite Eight.
Less than one half of one-hundredth -- 0.003 percent -- predicted Northern Iowa will take home the championship.
Kansas (33-3) trailed for most of the game against Northern Iowa, who shot the lights out throughout the match, opening with a 10-2 run and ending with a clutch 3-pointer from the team's star, Ali Farokhmanesh.
Farokhmanesh and the confident Northern Iowa Panthers pushed the lead against the Jayhawks to as high as 12 en route to defeating Kansas, the first time a No. 1 seed has lost in the second round of tournament play since 2004, when Kentucky and Stanford both fell to lower seeds.
Northern Iowa's win also marked the first time the school had ever played a No.1 ranked team -- and the first time an institution from their conference had beaten once since 1962.
The Kansas loss was one of a series of key upsets that shook up the tournament Saturday, following No. 2 seed Villanova's loss to St. Mary's that advanced the 10-seed to the next round as well as No. 3 New Mexico's loss to 11th-seeded Washington that pushed the Huskies to the Sweet 16.
All in all, eight double-digit seeds moved through the bracket after the first round of play -- illustrating the unpredictability of a tournament field experts forecasted would be filled with exciting play, from top-ranked Kansas to the lowest 16-seed.
Despite Kansas' defeat, fellow No. 1 seeds Kentucky, Duke and Syracuse all moved easily through their regional rounds -- Kentucky routed No. 9 seed Wake Forest 90-60 Saturday to move to the Sweet 16, while Syracuse and Duke handily defeated their lower-seeded opponents in the first round to prepare for their own Sweet 16 bids.
Duke will face California Sunday, while Syracuse will square off against Gonzaga. Other Sunday games include a matchup between Ivy League Cinderella Cornell, which upset Temple to advance to the second round, and Texas A&M, as well as second-round play between Xavier and Pittsburgh, Missouri and darkhorse tournament favorite West Virginia, and a Michigan State and Maryland face-off that will determine Northern Iowa's Sweet 16 date.
Tournament darling Ohio State will also play Sunday for a bid to the Sweet 16, meeting Georgia Tech in a fight to advance.
Copyright AP - Associated Press