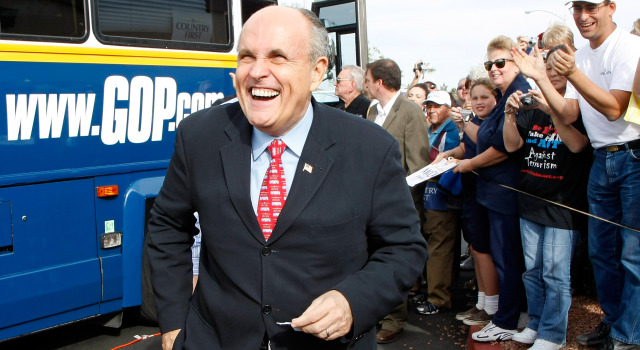 Just how disastrous was Rudy Giuliani's presidential campaign last year? I mean, aside from being the costliest such effort to net only a single delegate -- $57 million burnt through.
Well, it now appears that the presidential campaign may end Giuliani's business career as well as his political one. Saturday's New York Post reported that Giuliani Partners is on the ropes:
The firm's client list has thinned out in the past few years, as have partner salaries, the sources said. Some partners have left, and some support staffers let go. The former mayor himself is infrequently there, the sources said, adding that he's still working the speaker's circuit hard and making international trips. He spends much of his time at his law firm, Bracewell and Giuliani.
Considering the heights the firm soared in the years after Giuliani left the mayoralty in January 2002, this is pretty stunning.
Privately, several Giuliani boosters noted the bad economy is impacting every consulting firm. Some said not having a raft of new clients could be helpful should he run for statewide office -- since his business dealings become fodder for opposition research during the presidential run.
Giuliani built a major international brand in the wake of the 9/11 attacks.
But his costly presidential run flamed out in the Florida primary in January 2008, and the firm has never reverted back to its old form.
This puts Giuliani in difficult position. His economic fortunes may force him into looking seriously at the New York governor's race next year. However, the only chance he would have of winning would be if incumbent David Paterson is the Democratic nominee. Almost no one thinks that will be the case: In all likelihood, Paterson will either decide not to run (his approval rating is between 19-26 percent depending on the poll). If he does run for election in his own right, he will be challenged by Attorney General Andrew Cuomo -- who will beat him handily.
In the Big Blue State of New York, Rudy Giuliani won't be able to beat Andrew Cuomo.
The question is whether his financial situation is so problematic that he might choose to make the race regardless -- just to rehabilitate his image enough to rejuvenate his business opportunities. Or he could just continue to rely on the public speaking network.
But, who would have thought that it might have reached this point? This is a perfect example of how a "corporation" can ruin its "brand" by watering it down too much. Giuliani Partners was principally a strategic consulting firm -- with an emphasis on security. Thus, its clients included both businesses and cities -- Mexico City, for example. Yes, all consulting firms are facing difficulties in the economic downturn. However, it's obvious why Giuliani Partners would be in a more precarious position. By the end of the presidential campaign, the mayor had turned himself into a punchline by inserting 9/11 into just about every policy response. (It didn't exactly help that another former Giuliani Partner -- ex-NYC Police Commissioner Bernard Kerik was indicted on federal corruption and tax evasion charges.)
Who wants a joke giving them public relations and consulting advice?
New York Republicans have to wonder how that declined reputation will come into play in any potential gubernatorial run.
Robert A. George is a New York writer. He blogs at Ragged Thots.
Copyright FREEL - NBC Local Media