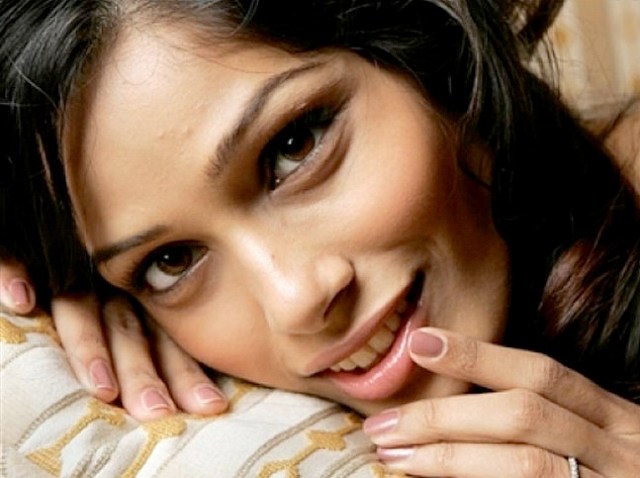 Update: The film's title has been changed from "War of the Gods" to "Dawn of War," notes The Playlist
Director Tarsem Singh, better known simply as Tarsem, has cast "Slumdog Millionaire" beauty Freida Pinto for his own upcoming epic Greek battle flick, "Dawn of War."
Pinto will play "Phaedra, an oracle priestess who must join Theseus -- played by Henry Cavill ("The Tudors") -- on his quest to prevent the cataclysmic war from erupting," reports Variety.
"It's turning into, basically, Caravaggio meets 'Fight Club,'" Tarsem told Empire Online last fall. "It's a really hardcore action film done in Renaissance painting style. I want to see how that goes; it's turned into something really cool... I'm going for a very contemporary look... with, you know, Renaissance time with electricity. So it's a bit like Baz Luhrman doing 'Romeo + Juliet' in Mexico; it's just talking a particular Greek tale and half contemporising it and telling it."
Tarsem burst onto the scene in 1991 by winning video of the year at the MTV Video Awards for R.E.M.'s "Losing My Religion," going on to make several more videos and commercials.
He's also directed two feature films, most notably 2006's "The Fall," a gorgeous, sprawling post-modern "Wizard of Oz"-like tale of five men on a quest to defeat an evil ruler. It took four years to make, left Tarsem broke and was a commercial failure. Rent it, it's amazing.
Producers Gianni Nunnari and Mark Canton, two of the men behind "300," are backing "Dawn of War," which promises to use similar filming technology and technique. And Tarsem's visual sensibilities and "War of the Gods" should at the very least be gorgeous to look at.