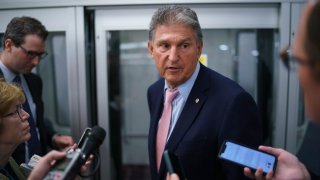 Sen. Joe Manchin came out against a $3.5 trillion budget bill on Thursday, throwing cold water on one of President Joe Biden's top legislative ambitions.
Writing in the Wall Street Journal opinion section, the West Virginia Democrat called on his party to hit "a strategic pause" on the legislation, rejecting the idea of "artificial political deadlines" to advance it.
Download our app for iOS or Android to get the latest forecasts on the hurricane season— and sign up for alerts.
"I, for one, won't support a $3.5 trillion bill, or anywhere near that level of additional spending, without greater clarity about why Congress chooses to ignore the serious effects inflation and debt have on existing government programs," Manchin wrote.
Manchin's piece is a warning to Democrats, who have no path to passing a multitrillion-dollar budget bill without his vote in a Senate that is split 50-50.
Read the full story on NBCNews.com.