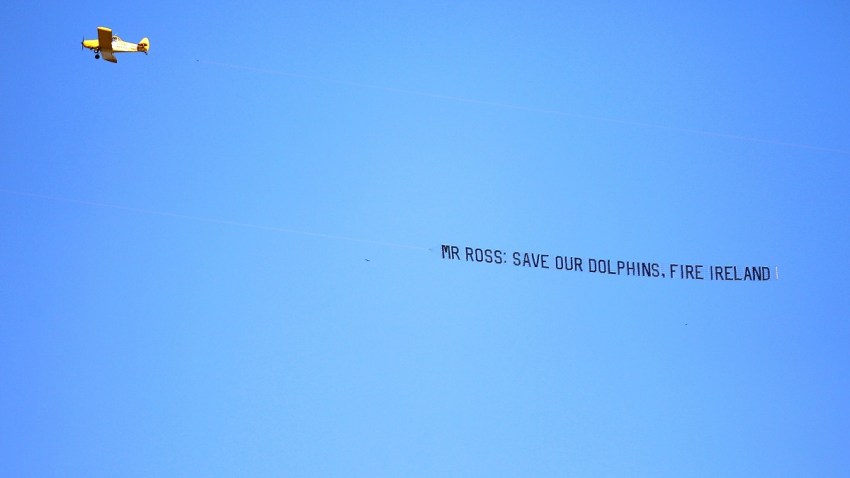 With his team in freefall and at the center of a national controversy over bullying accusations, Miami Dolphins general manager Jeff Ireland is once again the target of harsh criticism from Dolphins fans.
A pair of Dolphins fans who paid to fly a banner above Sun Life Stadium imploring owner Stephen Ross to fire Ireland during the 2011 season are set to do the same when the Dolphins host the San Diego Chargers on Sunday.
"The banner itself is a vessel for some of the passionate, frustrated fans to voice their anger about a decision that's long overdue," Roger Paul told NBC 6.
"I understand some fans might feel that we're embarrassing the franchise but it seems to me that the franchise itself has done a well and good enough job of that. It's time for a clean slate and for Mr. Ross to put someone in the GM position that can effectively and intelligently use his position to put the right people in place."
On New Year's Day 2012, when the Dolphins hosted the New York Jets, Paul and his blogging partner Chris Joseph arranged to fly a banner that read "Mr Ross: Save Our Dolphins, Fire Ireland." They raised money for the banner from their Twitter followers.
"We just don't have faith in the guy," Joseph said at the time. The gambit did not sway Ross, but it did identify just how disgruntled a portion of the fan base had become with the team's architect.
But only weeks ago it looked like Ireland's and the Dolphins' fortunes had taken a turn for the better. Miami won its first three games of the season (the franchise's first 3-0 start since 2002), and news leaked that Ross had quietly extended Ireland's contract over the summer.
Then Miami lost five of its next six games. Making matters worse for Ireland, he was reported to have told AWOL offensive lineman Jonathan Martin's agent that Martin should "punch" Richie Incognito, his alleged tormentor on the team.
Between the disappointing play from the Dolphins and the allegations that the front office and coaches unknowingly allowed hazing rituals to spiral out of control, Ireland's job security is looking bleaker each week.