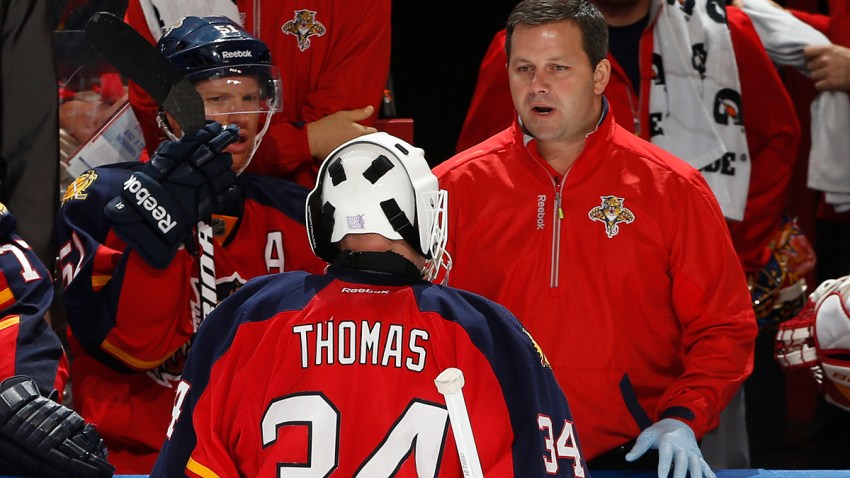 Tim Thomas' comeback season has taken another turn for the worse. A day after he re-injured his groin in a 3-2 loss to the Chicago Blackhawks, the Florida Panthers placed the goalie on injured reserve.
Via the team's Twitter account, Panthers coach Kevin Dineen said Thomas will not play on Friday against Buffalo or Sunday against Tampa Bay due to what the team is calling a "lower body injury." Dineen left open the possibility that he could play November 1 when Florida hosts the St. Louis Blues.
Thomas left Tuesday's game late in the third period, having stopped 25 of 27 shots on the night. It was the second time this season he was pulled after an injury, having injured his groin during the third game of the season on October 8.
He missed the Panthers' next three games, but returned a week later on the 17th for a game against his former team, the Boston Bruins.
Though he had struggled in his first three appearances, Thomas stopped 92 of 98 shots in his three games since returning from the prior injury (for a 0.939 save percentage).
With Thomas sidelined, backup Jacob Markstrom is expected to start on Friday. Additionally, the club will probably recall Scott Clemmensen from Florida's AHL affiliate in San Antonio for depth.
Thomas sat out last season to spend more time with his family. He is 2-3-0 this season, allowing 3.11 goals per game and saving 90.5% of opponents' shots.