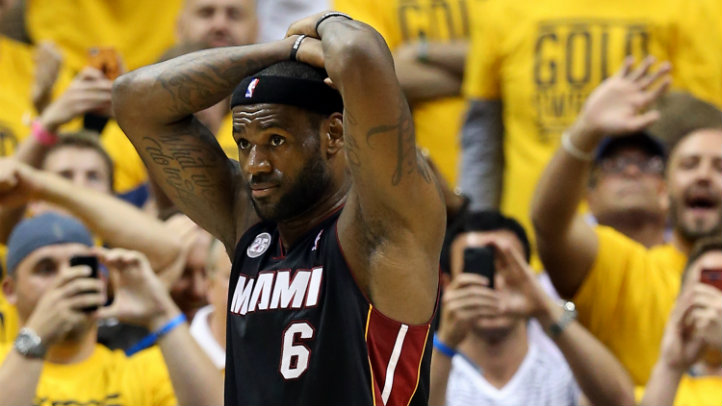 LeBron James' wallet is slightly lighter this morning. The NBA fined the Miami Heat star and two Indiana Pacers Thursday for violating the league's anti-flopping rule. Each will pay a $5,000 fine.
James and David West were punished for a play in Game 4 of the Eastern Conference Finals Tuesday when the two bumped into each other and both fell to the ground as if the other had shoved him.

Indiana's Lance Stephenson was fined for exaggerating contact with Miami Heat guard Ray Allen in the second quarter of Game 4.
Road Rallies Take Over Arena For Games 3 and 4
Reacting to complaints from fans and broadcasters, the NBA instituted a policy this season whereby players who try to fool referees into calling a foul following limited contact would be fined.
Steve Kerr, who worked Game 4 as an analyst for TNT, said flopping has "been apparent throughout the series but I think it got worse" during Game 4.
This is not the first time James has been accused of flopping. Chicago Bulls coach Tom Thibodeau said James flopped at least once during the Heat's second-round victory over the Bulls.
VIDEO: Students Fired Up for White Hot Heat Day
Last season, Indiana coach Frank Vogel complained about the Heat's propensity to flop before the teams' Eastern Conference semifinal series. "Often times they're falling down even before contact is even being made," he said at the time.
Earlier this week, James said flopping is "not even a bad thing, you're just trying to get the advantage."
On Thursday, Kerr said flopping is "unbecoming of star players."
"To me, flopping is sort of the territory of guys who are just trying to hang onto their position in the league and they have to find their way to be successful and productive somehow," he said in a phone interview before the penalties were announced.
"So if (Shane) Battier and (Tyler) Hansbrough are going to flop a little bit because that's how they're going to impact the game right now, I'm probably more willing to give them a pass than when I see David West and LeBron falling all over each other in the post, two of the best players in the league."
The plays for which James, West, and Stephenson were fined can be viewed on the league's website. The NBA also upgraded a personal foul committed by West on Dwyane Wade in the fourth quarter of Game 4 to a flagrant-1.
Copyright AP - Associated Press