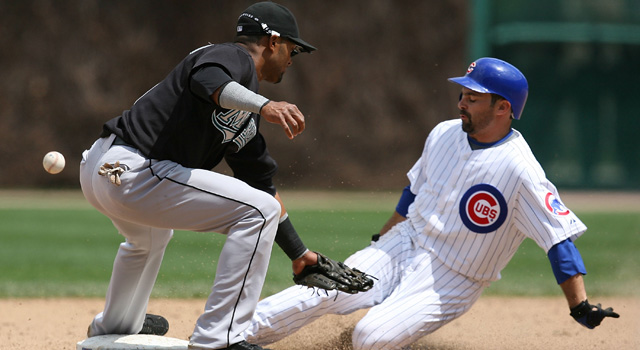 CHICAGO — Just when the Chicago Cubs started swinging the bats, they may have lost the centerpiece to their pitching staff.
Derrek Lee hit a grand slam shortly after Cubs ace Carlos Zambrano hurt himself while beating out a bunt single, and Chicago defeated the Marlins 6-4 Sunday for their third straight win.
Zambrano strained his left hamstring on his leadoff hit in the fifth inning and left the game.
Zambrano was taken to a hospital for an MRI exam. The Cubs will have the results on Monday, though manager Lou Piniella said Big Z's next scheduled start "is in jeopardy."
"That will be a big blow," Lee said. "Hopefully it's not too serious. He's a horse and we don't want him to miss too many games.
Mike Fontenot went 2 for 4 with a homer and a stolen base for Chicago, which won its third straight for just the second time this season.
Ryan Theriot also went 2 for 4, but his surprising home-run streak ended at two games. He had gone 620 at-bats without a homer before his grand slam on Friday. He added a two-run shot on Saturday.
"We're putting some runs on the board with a little more consistency and we're winning with a little more consistency," Piniella said. "If we get Derrek swinging the bat the way he's capable of, it really helps our offense."
John Baker homered, doubled and singled for the Marlins, who have lost 10 of 13 since starting the season 11-1. Hanley Ramirez added a double and three walks for Florida.
Ricky Nolasco allowed five earned runs and eight hits in six innings. A year after setting career bests with 15 wins and an ERA of 3.52, he has allowed at least four runs in all but one of his six starts this season.
"Other than a pitch here or there, I thought out of the six innings he pitched four that were pretty decent innings," Marlins manager Fredi Gonzalez said.
Zambrano (3-1) allowed two runs on four hits in five innings to earn career win No. 99. Known for taking big swings at the plate, he dropped down a bunt in the bottom half of the fifth and stretched to beat the throw from Nolasco (1-3).
Pitcher Rich Harden pinch-ran for Zambrano, and the Cubs loaded the bases on Ryan Theriot's bunt single and right fielder Ross Gload's error on a fly ball by Kosuke Fukudome.
Lee followed with his ninth career grand slam, a shot over the center-field wall.
"Good teams are going to capitalize on the mistakes you make," Nolasco said. "One pitch right there completely ruined my whole outing."
After batting .189 in April, Lee had two hits Friday and homered Saturday. Following his grand slam, he came back out for a curtain call.
"I didn't know if I wanted to come out because they've been booing me every at-bat, but it felt good," Lee said. "Honestly, I don't worry about the power. I just really am concerned with having consistent, good at-bats. I think after that, things take care of themselves.
Kevin Gregg pitched a scoreless ninth for his third save. He was helped by Fukudome, who made a diving catch in right field on Emilio Bonifacio's sinking liner for the final out.
Florida loaded the bases with no outs in the sixth, but Cubs reliever Angel Guzman managed to wiggle himself out of the jam while allowing just one run on a sacrifice fly by Dan Uggla. Guzman then pitched a 1-2-3 seventh.
Baker led off the eighth with a homer off Carlos Marmol to pull Florida within 6-4. Marmol then walked Hanley Ramirez with no outs, but didn't allow any more damage.
Copyright AP - Associated Press