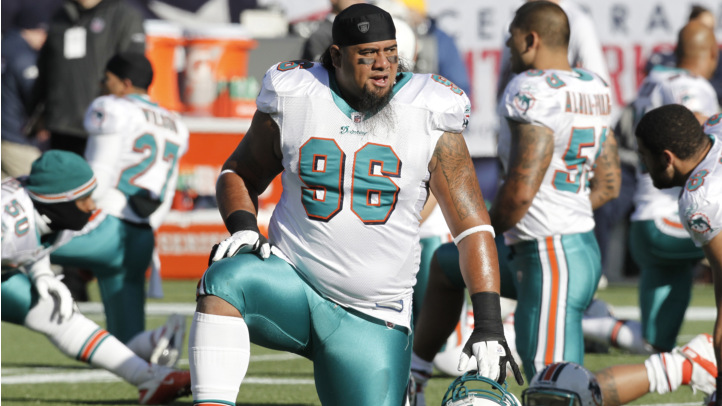 Miami Dolphins DT Paul Soliai did not participate in practice on Tuesday as the team began preparations for its upcoming home opener against the Atlanta Falcons. The seventh-year veteran injured his knee during Sunday's win over the Indianapolis Colts.
The Miami Herald reported that Soliai underwent an MRI on Monday, but the results are not yet known. Should Soliai miss Sunday's game against Atlanta, reserve DT Randy Starks will likely start in his place.
"You can't replace a guy like Paul Soliai," Starks told ESPN.com on Tuesday. "So everybody is going to have to pull their own weight and do a little extra to win."
Through two games, Soliai has six tackles with 2 passes defended at the line of scrimmage. He has not missed a game since the 2009 season, and has started 44 of Miami's past 50 regular season games.
Miami signed two defensive tackles to the practice squad Tuesday as possible insurance in case Soliai's injury lingers too long: Isaako Aauitui and Al Lapuaho. Neither have any NFL experience. Miami cut QB Austin Davis and CB Devin Smith from the practice squad to make room for them.
Safety Chris Clemons also missed practice, though the team has not disclosed any injury information at this time. He has 7 tackles and 3 passes defended this season, starting both of Miami's games.
On the bright side for Miami, CBs Dimitri Patterson, Jamar Taylor, and Will Davis all returned to practice after missing last week's game. Patterson, a starter, intercepted 2 passes in Week 1, while rookies Taylor and Davis have yet to make their professional debuts.
The Falcons are dealing with injury troubles of their own. The team announced Tuesday that starting RB Steven Jackson will not play on Sunday. He exited the Falcon's win against St. Louis on Sunday with a thigh injury.
Jackson is in his first season with Atlanta following 9 with the St. Louis Rams. He had topped 1,000 yards rushing in each of the past eight seasons, making 3 Pro Bowl teams in the process. Jacquizz Rodgers and Jason Snelling split time in his place.