Tuesday marks day five of the Tokyo Olympics - and with it comes some interesting storylines for athletes on Team USA.
Swimming sensation Katie Ledecky made Olympic history - while Team USA men's basketball aimed to get back on track after suffering its first loss since 2004.
Here are our 6 things to watch Tuesday at the Tokyo Olympics:
1. Katie Ledecky makes Olympic history
Katie Ledecky has become the first-ever women's 1500m freestyle Olympic gold medal winner. Ledecky finished with a time of 15:37.34. Fellow American Erica Sullivan finished with the silver medal in second and German Sarah Köhler came in third to earn a bronze.
Ledecky couldn't make the podium in the 200m freestyle, finishing fifth with a time of 1:55.21. Australia's Ariarne Titmus won the event in 1:53.50.
American Gunnar Bentz came in seventh in the men's 200m butterfly with a time of 1:55.46. Hungary's Kristof Milak broke Michael Phelps' 200m butterfly Olympic record with a time of 1:51.25 to win gold. Phelps set the previous Olympic record in 2008 with a time of 1:52.03.
Team USA took home the silver and bronze medals in the women's 200m individual medley, with Alex Walsh coming in second and Kate Douglass finishing third. The Americans finished behind gold medal winner Yui Ohashi from Japan.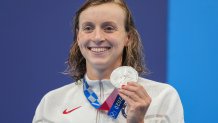 2. U.S. men's basketball gets back on track with win vs. Iran
After losing to France in their opening game at the 2020 Tokyo Olympics, the USA men's basketball team beat Iran 120-66.
Miami Heat superstar Bam Adebayo had just six points in the game.
Team USA was stunned by France in the fourth quarter of their Group B opener on Sunday. France ended the game on a 16-2 run, handing the Americans' their first Olympic loss since 2004 in Athens.
3. Team USA advances to 3x3 basketball gold medal game
The U.S. women's 3x3 basketball team is one victory away from a gold medal.
The team defeated France 18-16 on Wednesday, advancing to the sport's first gold medal game against the ROC starting at 8:55 a.m.
Team USA never trailed in the game, taking a 15-12 lead when Kelsey Plum eluded her defender with a hesitation dribble drive and converted the layup with 2:17 remaining. France came back to tie it at 16 with 1:07 remaining on a layup by Laetitia Guapo.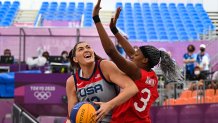 Watch the gold medal game at 8:55 a.m. by clicking here
4. U.S. women's water polo team drops game vs. Hungary
Team USA has looked like a team determined to win its third straight Olympic gold medal in women's water polo - until Tuesday.
Undefeated in London and Rio, Team USA dropped a tight preliminary match to Hungary 10-9 for their first loss since Beijing 2008. They had already qualified for the knockout rounds.
The squad started off the tournament with a historic, 21-goal victory of host nation Japan on Saturday. The margin of victory was the most ever in a women's Olympic water polo game - until Spain broke the record against South Africa just a few hours later.
Team USA is led by Miami native Ashleigh Johnson, with the Ransom Everglades School alum in net for the Americans.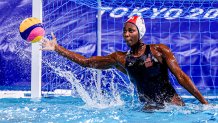 5. Andrew Capobianco, Mike Hixon take silver in men's synchronized springboard
Andrew Capobianco and Mike Hixon soared for Team USA in the men's synchronized springboard final on Wednesday.
The U.S. has won a medal in the event in the last two Olympics, with Hixon and Sam Dorman claiming silver at the 2016 Rio Games. That tandem fell four points shy of Great Britain's gold medal duo.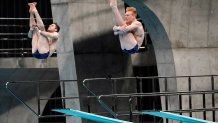 6. U.S. men's volleyball dominates Tunisia in group play
The U.S. men's volleyball team was able to bounce back from its first loss in Tokyo with a dominating win over Tunisia in group play.
Team USA started off pool play strong with a 3-0 sweep over France but took a step back in a 3-1 loss to ROC.
Entering Tuesday tied for third place with France in Pool B, the U.S. faced a Tunisia squad that was 0-2 and has yet to win a single set.