The eighth day of competition at the 2018 Winter Games brings some of the heaviest hitters in the Olympics' biggest sports, from skier Mikaela Shiffrin's Pyeongchang debut to the explosive rivalry between the American and Canadian women's hockey teams.
The top events to watch run the gamut from graceful pairs figure skating, where a married couple is representing the U.S., to extreme snowboard cross, a set of high-flying group races that will feature a squad of Norwegians known as the "Attacking Vikings."
And it's a big day for downhill skiing, as medals will be awarded in women's giant slalom — Shiffrin's a favorite — and men's downhill.
Here are the six must-watch events on Day 5 in Pyeongchang:
Shiffrin Set to Make Pyeongchang Debut at Giant Slalom
Will Mikaela Shiffrin make her long-awaited Pyeongchang debut Wednesday? Her first two would-be debuts were postponed by dangerous winds.
High Wind Forces Evacuation of Olympic Park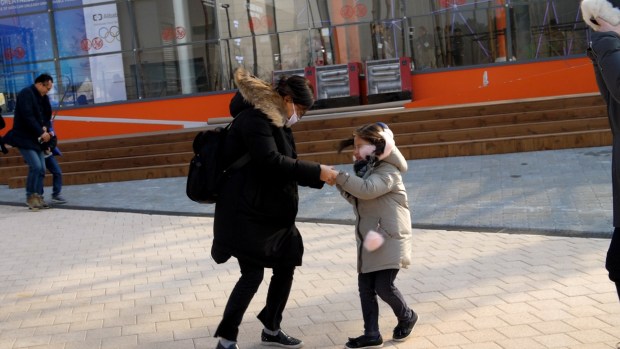 Shiffrin was a breakout star at the Sochi Olympics, where the American became the youngest-ever Olympic slalom champion at age 18. Now 22, Shiffrin committed to skiing both the giant slalom and the slalom in Pyeongchang, and she might add the other three individual women's races to her schedule.
Lindsey Vonn, another star American skier, will not compete in the giant slalom.
Watch Shiffrin go for gold, with coverage beginning live on NBC 6 and on digital platforms at 8 p.m. ET Wednesday here.
The Knierims Advance in Pairs Figure Skating
After finishing 14th in the short program Tuesday night, married pairs figure skaters Alexa Scimeca Knierim and Chris Knierim will compete in the free skate Wednesday night. Medals in pairs' figure skating will be awarded after the free skate.
The Knierims skated to "Come What May" from "Moulin Rouge" Wednesday (Tuesday night in the U.S.). Several pairs chose covers of classic hits — North Korea earned 10th place with their performance to Jeff Beck's cover of Beatles classic "A Day in the Life."
Married in 2016, the Knierims were named the American figure skating team's sole pair for the 2018 Olympic Winter Games.
Watch live as part of NBC's primetime coverage, which beings at 8 p.m., or on digital platforms at 8:30 p.m. ET here.
Women's Hockey Grudge Match, a Gold Medal Preview
Of the five women's hockey finals in Olympic history, four were played between the U.S. and Canada, building what may be the biggest international rivalry in the sport, women or men.
There will be no love lost between the teams at this next meeting — members of Team USA have talked about how they will be fired up to avenge a heartbreaking loss at the last Winter Games. The U.S. was winning 2-0 with four minutes to go in the championship game, but Canada rallied and won in overtime to clinch a fourth straight gold medal.
Both the U.S. and Canada have guaranteed they're through to the semifinals of the 2018 Games by beating Finland and the Olympic Athletes from Russia, so this match is mainly about pride. It's also very likely a preview of the gold medal game, since both teams will be heavily favored in the semifinals.
Watch live on NBCSN, with coverage beginning at 10:10 p.m. ET Wednesday, or on digital platforms here.
Men's Snowboard Cross Final: Two Americans nearly made the podium.
France's Pierre Vaultier successfully defended his gold medal in men's snowboard cross, becoming the second athlete to win back-to-back gold medals in the discipline. Australia's Jarryd Huges earned silver and Spain's Regino Hernandez took bronze.
American snowboarders Nick Baumgartner and Mick Dierdorff finished fourth and fifth, respectively, after crashing on the same jump during the big final. Australia's Alex Pullin also went down on the same part of the course and finished sixth.
Norway's Svindal Wins Gold in Men's Downhill
Aksel Lund Svindal won the men's downhill in Pyeongchang on Thursday, making the 35-year-old Norwegian the oldest-ever Olympic gold medalist in Alpine skiing.
Svindal was one of Norway's formidable "Attacking Vikings" who wrested the gold from the defending champion, Austria's Matthias Mayer, who finished ninth. Svindal was 0.12 seconds faster than Norwegian teammate Kjetil Jansrud, who took silver. Beat Feuz of Switzerland took bronze.
Team USA's Bryce Bennett finished in 16th place.
USA's John Daly and Matt Antoine Compete in Men's Skeleton
Three-time U.S. men's skeleton Olympian John Daly and Matt Antoine, a two-time Olympian and the bronze medalist in men's skeleton at the Sochi Games, are set to compete in the event in Pyeongchang.
Daly retired after a poor finish in Sochi, and has been in eight World Cup races since unretiring. "It's not unfinished business, but more like an unfinished feeling," Daly said.
Watch men's skeleton live beginning at 8 p.m. ET on NBC 6 or on digital platforms here.