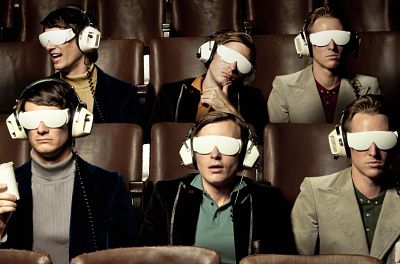 Three years ago the Sydney-based three-piece that would come to be known as Art vs Science were nothing but an idea. Three years later that idea is proving to be about as bright as they come. Then again, what else would you expect from a trio who takes their inspirations from the best minds in both Art and Science? Niteside caught keyboardist Dan Mac before the band battled it out at Electric Pickle Thursday night.

Head-to-head in a cage match who'd win, Art or Science? They would battle viciously for all eternity until they realize that there is no battle.

If they were a tag team, would they be invincible? Yes, armed with the sword of keyboards through Marshalls turned up to 11 and giant beats they would swiftly take over the world. Art would delude and Science would slice and dice. This is why we have pitted them against each other - at this point in time the power of their uniting would be simply too hard to control.

If Art had to have a single figurehead, who would you nominate? Leonardo Da Vinci

And Science? Nikola Tesla

Now that we've covered conjecture, let's move on to hyperbole. Given but one sentence to sum up the sound and the vision of Art vs Science, what would it be? It's like an electro comic book for your ears: the live mash of The Hives mixed with the synthetic gurgle of Justice and Daft Punk.

Can we expect all that and then some at Electric Pickle Thursday night? Yes! Combine the above with Australian enthusiasm to be in Miami for the first time! We are so amped for this show that we are currently powering 10% of the Miami electricity grid purely by the power of our excitement. See you at the Pickle!

Art vs Science play Thursday August 11 at Electric Pickle 2826 North Miami Avenue Wynwood. For more information call (305) 456-5613 or log on here.