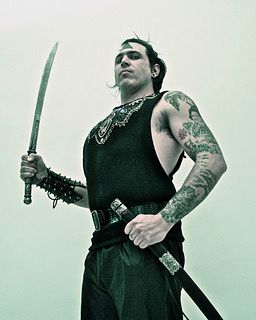 To define the mad music of Flamingo Prince Otto Von Schirach would be nearly as difficult as wrapping your arms around all the stars in the universe. But that hasn't stopped folks from trying. Nor will it stop them from bopping to the Bass Warrior's extra-terrestrial grooves at Candyland this Friday night.

This weekend you're performing at some blowout festival. Wanna clue us in? Yes, I'm playing live this weekend for Candyland 15, the best party to catch Santa with his rave face. I have played loads of them for AJ, Culture and Juan. I went to the first one and raved my face off in 95. So it's killer to come back and play them in the later years.

What other acts are appearing at Candyland? Santa is going there raving hard with E.T. and of course this year the Mega BASS posse -- Starkillers, Ed Rush, Starkey, Juan Basshead, Felos, Ashrock and Exzakt...

Word is you will be bookended by some rather interesting figures. Care to give us the dope? Yeah, for Candyland the UFO will land with Alligator Jesus, Mr. Feathers and Tri-Bit. We have 14 alligators and a Santa Claus. So get ready for the ultimate experience on earth.

Where else might we catch your act between now and New Year's Eve? So Far in Miami just Candyland. I got to go back to Planet 4 the Zorg PPl need my Bass, so Europa next!

Don't you have an LP slated for release sometime in the near future? Yes! I just finished my new album "Greeting From The Bermuda Triangle," which is set to drop in late March or early April, on TIMESIG, a Subsidiary to Planet MU controlled By Aaron Funk, Mr. Venetian Snares. This record has all the jams I've been playing live for the last three years. Earthlings always ask me where they can hear, ear, get, those songs -- now they'll have a place. I also just started my Digital Label, TRIANGLE EARTH, and we dropped a super-duper fantasmic record by Dino Felipe, as well as a Magical reissue by Jose El Rey. Up next is Bass Master Salim Rafiq and Scientific Guru Mr. Feathers.

And aren't you also a frequent collaborator with the TM Sisters? I love the TM Sisters! It is super amazing and magical to collaborate with them. They seem to have a super grip on the Art Planet. I've also been able to work on super sci-fi sounds for video games, videos and performance art and I've been a part of gallery shows and museum shows all over planet earth and beyond.

What else do we need to know about Otto Von Schirach? There will be a new adventure into sound and breathing in four months and every three months on earth.