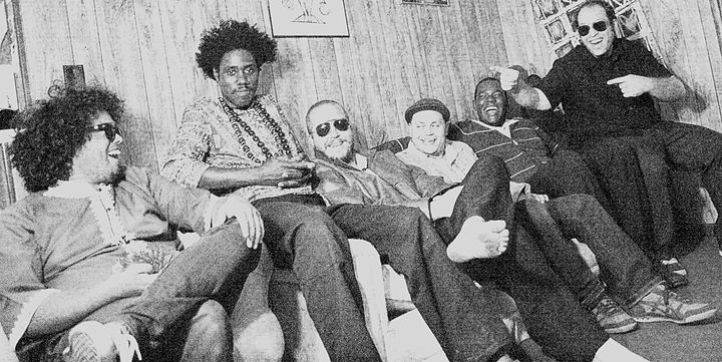 The last time Niteside got next to Ketchy Shuby, the Magic City soul-stirrers were rockin' the regal "Long Live the King." Four months (and one thousand wallops) later, the kickass classicists are back with a track straight from one of music's most royal personages. We mean Gil Scott-Heron and the sublime 1959 heart-stopper "I'll Take Care of You", which was written by Brook Benton, originally recorded by Bobby "Blue" Bland, and has also been covered by the equally esteemed Van Morrison, Elvis Costello, Etta James, Irma Thomas, and Mark Lanegan. With Ketchy Shuby however, the world gets a version that turns the true blue ballad into an upbeat vow of now and forever which is as solid as the foundation it springs from. KS axe man Jason Joshua Rodriguez-Hernandez fills us in before the band blows out The Stage this Saturday night.
What's the story behind "I'll Take Care of You"? Way back when we were demoing some covers for our first mixtape, Downtown Soul Record Singles Club, my friend Pancho and I were listening to Gil Scott-Heron's classic "Angel Dust" and I suggested we do one of his tracks. Problem with that though is that all of his tracks are classic and worthy of covering. Forty songs later I chose "I'll Take Care of You."
Who all is in on the racket-making? We record all of our stuff ourselves, in our own studio, and we mess with the label Pugilista Trading Company. Karim and I wrote the new arrangement, brought the band in on the action, laid it down and sent it off to Panama for our legendary friend Kells (J-Dilla, Madlib, Flying Lotus, et al), who cleaned it up and made nice and tidy for y'all.
Will there be the customary wicked cool clip to go with? Yeah, we start shooting the video next week during Basel, and it'll prolly be out within a week or two after that!
Is the single also slated to slab on the Still Making it Look Easy LP you mentioned the last time you went Niteside? Yes, but the LP got pushed till spring. We're hoping the maxi-sized tip of this new mixtape will hold you down for a little longer!
So what's on tap between now and the racking of that full-size slab? That would be Downtown Soul Record Singles Club II, which is coming out in January.
Are we gonna get to groove to a good chunk of new new Ketchy Shuby when you Stage this Saturday night? New new is right. We're actually playing mostly new stuff; and nothing that's been released except for the new single!
Ketchy Shuby plays Saturday, Dec. 1 at The Stage. Headlining will be Lee Fields and the Expressions. A Sweat Records Production.