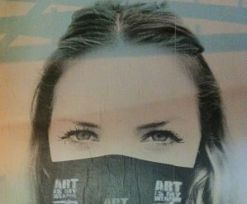 It had the roar (Arboles Libres), it had the grub (Ms Cheezious, CoolHaus), it had the with-it (YoMiami; Black Key Group). It was indoor, and it was out. In short, it was the perfect setting for a wild night in the MIA. It was (and is) Found, a furniture-store-cum-art-hang that attracts all the cool kids in town. Last night Niteside swung through and chatted-up co-owner Paige Solomon (pictured).

What's the big idea behind this place? My sister, Sloane, my mother, Susan, and I started Found when we found we needed more room to make our furniture.

Found, as in "found objects"? Exactly. We reclaim and re-purpose beautiful things -- and end up with a shopful of one-of-a-kind finds.

How long has the joint been open? Since September.

Every day? Tuesday through Saturday.

How often do you do events? That was our first event since our opening party! It was a major success, but we wanted to do that event right and not rush it. So now there will definitely be more neighborhood-friendly events like that in the future. Plan for January. But I think, based on last night's success, we might make it a monthly thing!

Found is located at 2328 N Miami Ave Wynwood. For more information call 305-438-9311or log on here.