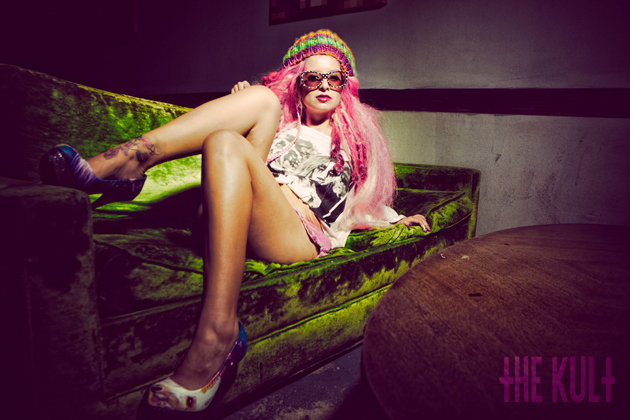 Pop-Up shops are of course by definition temporary phenomena; in fact that's a large part of their allure. And while there has been the occasional week- or even monthlong run, most of the popping lasts no more than a weekend. Not so with The Kult, whose opening Niteside celebrated a full two months ago, and who are now about to pop into permanence. Since the Wynwood set wonder store must first shut down before it can pop back up again, Niteside decided to follow up with proprietress and Wasabi Fashion Kult leader Pamela Wasabi.
So it's true that The Kult pop-up boutique is about to close down? Yes, our pop up has come to an end. We are shutting doors on Saturday November 24th.
What have you got planned for its last week of shopping? We are concluding our two month pop-up with awesome sales that coincide with Thanksgiving shopping and Black Friday. Come and see us Tuesday, Wednesday, and Friday starting at noon, and enjoy of our "Dark City" Promo. Take 1-2 items get 10% off, 3-4 items get 15% off, 5+ get 20% off.
What sorta goods are we talkin' about here? All our shop is on sale. Jewelry, shoes, and clothing. All our staple brands Iron Fist, TRIPP NYC, Lip Service etc...
Any other added action you wanna mention? Yes, we will be doing a series of Trunk Shows during Art Week, starting on Thursday December 6th and Friday December 7th at The Vagabond. On the weekend we are participating in Wood Tavern's Mini Market event as one of their main vendors.
Then the pop-up boutique goes permanent, right? Yes! We are very excited to share the news that we are closing the pop-up and permanently reopening as the THE KULT SHOP immediately after Art Week. Same location; new collections; same awesome prices!
Will you be featuring many of the same designers when you return? Yes, it's a continuation of what we started. Still working on getting some other special brands and designers. But it's all part of the process and our evolution.
What made you decide to go permanent anyway? Our customers really enjoyed visiting and shopping with us. There was an unanimous "Thank you" from all of them for finally providing them with a place to shop that offers just what they enjoy that really matches their style. It's a void we are filling. A response to our local fellows' demand. Besides, we've really enjoyed this whole process... and we recognize it's just the beginning!
Do you see Miami being the first step in THE KULT taking over the whole wild world? First things first. When our shop is running on its own wheels we'll know it's the time for our next step -- which we have already plans for!
The Kult (Pop-Up) Shop is (and will be) located 167 NW 25th Street Wynwood. For more information phone (305) 588-7301 or log on here.