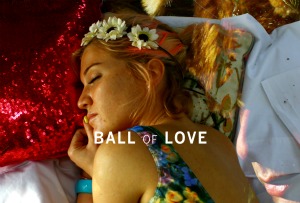 Yin & yang, her & his, this & that, if & when. No matter what pairing you use to convey the teaming of Tamara Aida Diaz & Paul Isaac, it'll come up meaning one thing: they go naturally together. Since the former is a multi-disciplined visualist and the latter the visually-taken singer of People From Venus, they go strikingly together too. Want proof? Hit O Cinema on Saturday for the screening of their Ball of Love. That'll be all the proof you need.

Wanna tell us a bit about Ball of Love? Here's the story: Tammy and I are like these art punks. Since we met we have been non stop creating and together we balance each other out, so it works really beautifully. She does her photography, fashion forecasting, blogging; I sing in a band called People from Venus, whether I connect the dots to the next PFV record, or make nano films. That's what we are as individuals: Art Punks.

What we are when we are together is more like love cats. One night we sat on the floor of a tiny room and wrote the story "Ball of Love." We didn't leave the room until the story was finished. It felt like we were somewhere in between reality and fantasy because what we were saying all stemmed from the truth. But we told our secret artistically. I mean the film even ended up being filmed on my iPhone. It was produced by Mad Music Consulting Inc. The movie soundtrack is by People from Venus.

Is there a Why behind the making of this movie too? We both had been feeling so much hurt in the world, so much suffering so close to us, I wanted to show that the invisible is more real than the visible. Like thoughts, emotions; like love, like soul. Energy trickles over... Ball of Love is a very avante garde film. The way our emotions switch in a flash, so does this film. The Why was to bring awareness that the earth really needs us to stay cool and that we share similar feelings about what is going on, so you're not alone.

Have you two collaborated together before? Yes, right when Tammy and I met. I had just finished a PFV collaboration with Brett Thorngren on a song called "Control" and I made a nano film called The Ballerina which starred Tammy.

Word is Ball of Love was accepted in a rather with-it film fest, is that so? Yes, I got an email from Raindance about three weeks ago accepting Ball of Love as an Official Selection. It was a big surprise. Raindance UK is known for being bold, edgy and sometimes daring, screening all genres of feature fiction and documentary. Over the years they've had guests and filmmakers like Ken Loach, Marky Ramone, Iggy Pop, Anton Corbijn, Quentin Tarantino, Faye Dunaway and Lou Reed. It's an honor to be chosen by them, and it's just brilliant to be part of such a controversial crowd.

Will you be going to London to see it screened? Yes, Tammy and I will be going to the October 7 screening in London. Maybe we'll shoot a new film while we are there...You make your own lights and they guide you home .

What about other film fests? We submitted to Sundance last week. We would like to get into Spiritual Cinema Circle films. Since it's a very cool company that distributes brilliant little films, we seem to think Ball of Love would fit right in like the teenager in a family ;)

Before that though, there's Saturday night. Wanna fill us in? Sure, it's the Ball of Love Interactive Installation, and it takes place at O Cinema in Wynwood. We have teamed up with Wasabi Fashion Kult for the Miami premiere, and we will have iPhone photographers like Kiley Howard, Are Eidet amongst others on site. We are going to build an installation of the sanctuary in film, giving people the feeling of walking into the picture physically before it even begins. What we are trying to show here is humanity, the human spirit and how it breaks through society's ceilings. How our emotions these days still manage to cut through, even living in this digital age of 140 characters to explain how we feel.

There's more too, isn't there? Yes. We have also printed children's coloring books inspired from the story, something very weird yet cool somehow, where people can add their own color to a version of the story and put them on the walls of O Cinema. The characters in the film have been made into stuffed animals by Krelwear and will be displayed along with the original creatures in the film, which were made of paper mâché. We will have limited edition hand-drawn CDs of the Ball of Love soundtrack by PFV available as well. And Brett (Cosmo) Thorngren will be DJing the event.

We invite you to enjoy the Phonetography, the Imaginatrium Room, the BOL Sanctuary, and many other stations we have prepared for you. To take a journey with us, and, step by step, find yourself submerged in the world of the Ball of Love, a magical escape.

Ball of Love opens Saturday September 10 at O Cinema 90 NW 29th Street Wynwood. For more information call (305) 571-9970 or log on here.